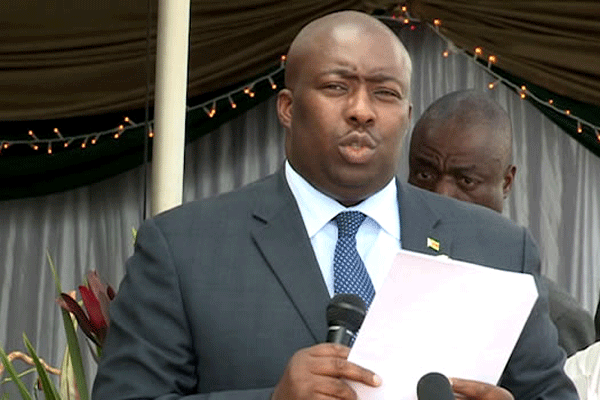 PRESIDENT Robert Mugabe's Zanu PF party has reportedly set in motion an elaborate plot to influence the structure of the 2018 national voters' roll and eventually rig the polls, NewsDay has learnt.
BY RICHARD CHIDZA
Impeccable Zanu PF sources told NewsDay that a detailed report of the alleged plot was presented to the politburo two weeks ago by the party's political commissar, Saviour Kasukuwere, and secretary for science and technology, Jonathan Moyo, leading to its adoption.
But both Zanu PF and the Zimbabwe Electoral Commission (Zec) denied the claims yesterday.
"Kasukuwere and Moyo presented a plan that will see Zanu PF go on a massive membership registration exercise to create an electronic database," a source revealed.
"This database will then be used as a template for the national voters' roll that is to be used in the 2018 elections. The Zimbabwe Electoral Commission will structure its roll around the party's membership register. The politburo agreed to this and that is why the President was happy with Kasukuwere."
Addressing journalists after the politburo meeting two weeks ago, Zanu PF secretary for administration Ignatius Chombo said: "The commissariat department and the department of science and technology headed by Jonathan Moyo gave a presentation on an electronic cards system. This will keep the party abreast with the new technology and changes in ICT."
According to sources, Zanu PF was planning to urge Zec to adopt its electronic membership register as a template on which the national voters' roll would be built.
Chombo yesterday could neither confirm nor deny the alleged plot.
"Sorry, I can't talk right now," that was all he said when NewsDay called him for clarification. But, Kasukuwere scoffed at the allegations, saying: "Is Zanu PF Zec?"
Moyo could not be reached for comment, but was quoted a few weeks ago saying: "Zanu PF would not reform itself out of power", in response to calls for comprehensive electoral reforms from opposition parties.
Opposition parties have in the past consistently accused Zanu PF of manipulating the Zec secretariat by staffing it with State security agents to facilitate poll-rigging.
Mugabe's legitimacy remains a bone of contention after his main rival, MDC-T leader Morgan Tsvangirai, has on three occasions claimed being denied victory through massive electoral fraud.
In the 2013 presidential elections, Tsvangirai claimed Mugabe and Zec hired a shadowy Israeli firm, known as Nikuv Projects, to manipulate election results in favour of the Zanu PF leader.
Zec chairperson Justice Rita Makarau yesterday also rejected claims that her organisation would use the Zanu PF membership register as a template for compiling the 2018 voters' roll.
"The electronic voters' roll will be available before the 2018 elections and we have made a decision that we will be using the biometric voting system," she said.
"There is no way a political party's database will be used by Zec. Our voters' roll will be independent of any political party interference and influence.
"We have not even procured our voting kits and when we call people to register, it will not be members of political parties, but all citizens from whom we will only require their identity cards and proof of residence.
"We do not even know what kind of system they (Zanu PF) have or whether it will be identical to ours. It is not true that we will use the Zanu PF database and there is no way that can happen."
Makarau said Zec would be making a comprehensive announcement on the issue soon, but added the commission was still to mobilise the required resources to procure the biometric voting kits.
"We are still looking for funds, but we are getting the major chunk of the funding from the UNDP (United Nations Development Programme), while the balance should be found locally," she said.
Zimbabwe remains on the edge as opposition parties push for electoral reforms, with Zec's impartiality or lack of it being one of the biggest sticking points.