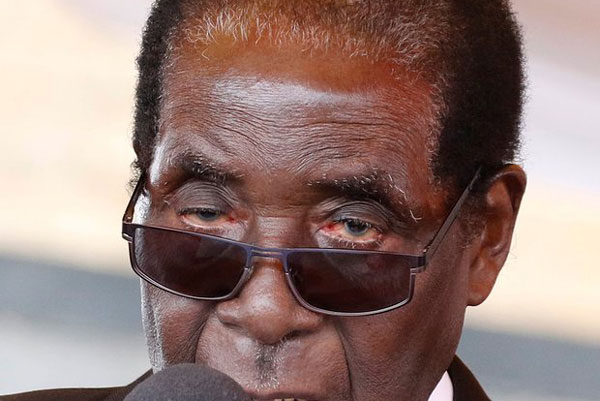 PRESIDENT Robert Mugabe arrived in Dubai early yesterday morning, amid speculation he was picking up his family before heading for Singapore.
by Everson Mushava/Blessed Mhlanga
According to online flight data, Mugabe landed in Dubai at 7:20am local time, after taking off on a chartered Air Zimbabwe plane, Boeing 767-2N0 (ER) UM1, at Harare International Airport at 10:45pm on Tuesday.
This was about three hours after touching down from Swaziland, where he left the 36th Sadc Heads of State and Government Summit, which ended yesterday.
Mugabe's spokesperson, George Charamba, yesterday declined to shed light on the purpose of Mugabe's visit to the Asian country, saying he would rather let the media dwell and delight on "a default explanation" that his boss was ill.
"Each time you people don't know the purpose of the President's visit, there is always a default explanation that he is ill," he said.
"So the life of the President springs between a known mission and illness. If I don't tell you the purpose, it should be illness.
"I will not give you the purpose of the President's visit to run away from the default explanation. This is not new. It is year in, year out; he is sick, he dies and resurrects. His life until the age of 92 revolves around illness and death."
Well-placed sources told NewsDay Mugabe landed in Dubai to pick up his family en route to Singapore, where the 92-year old leader has frequented over the past few years to receive medical attention, as his health continues to deteriorate due to advanced age and a punishing work schedule.
However, others insist Mugabe had a scheduled trip to the Middle East on private business.
Before his Monday trip to Swaziland, Mugabe was in Kenya, where he attended the Tokyo International Conference on Africa's Development, together with other African leaders.
His continued Asian trips for medical attention have often triggered a storm back home, with opposition political parties and observers saying he was no longer fit to govern the country due to his deteriorating health.
They also blamed Mugabe for running down the country's health system because he was privileged to get medical attention in foreign countries, while the majority could not afford to access basis health care.
MDC-T spokesperson, Obert Gutu said Mugabe's trip to Dubai was a serious source of financial leakages for a Treasury that was already broke.
"In as much as we sympathise with Mugabe over his health problems, we urge him to search his soul and conscience, so that he sees that in his current physical shape and going towards 93, it is not good to cling onto power," he said.
"He should go and rest and allow the nation to move forward in capable hands." Gutu said Mugabe's continuous travels were a serious drain to the fiscus.
People's Democratic Party spokesperson, Jacob Mafume said the Dubai trip showed that Mugabe had lost touch with reality and had misplaced priorities.
"The President is no longer in touch with the priorities of the nation," he said.
"We need a President, who is in good health, and not one who needs to be mended now and again. We, as a nation, should hang our heads in shame at this display by the one who is supposed to be our chief diplomat," he said. But Zimbabwe People First (ZimPF) spokesperson, Jealous Mawarire said the nation should not be worried about Mugabe's trip to Dubai because he was now of little value to the nation.
"It doesn't mean anything that Mugabe cut short an important State visit not to attend anything pressing here at home or anything pressing in Dubai, because even when he is here at home, he would be sleeping," he said. Mawarire said in the absence of evidence, ZimPF could only speculate that Mugabe had gone to Dubai for medical attention.
Mugabe's frequent travels to Asia have often sparked a flurry of speculation over his health, but Zanu PF and the government insist the President is in good shape and "as fit as a fiddle".