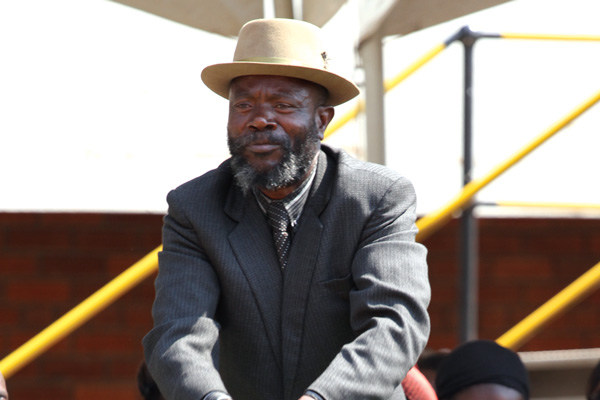 WAR veterans linked to Joice Mujuru's Zimbabwe People First have criticised Buhera South MP Joseph Chinotimba for requesting guns from the army, saying these could be used on unarmed peaceful civilians by a splinter group of the former freedom fighters.
BY EVERSON MUSHAVA
Chinotimba, who is in a war veterans faction led by Manicaland Provincial Affairs minister Mandi Chimene, last week requested the army to supply them with guns for self-protection saying he feared protesters could target them.
His request came in the wake of the current wave of protests against President Robert Mugabe's alleged misrule, with some of the demonstrations, particularly the one held last Friday, organised by opposition parties under the banner of the National Electoral Reform Agenda (Nera) turning violent.
But Retired Colonel Basten Beta yesterday said Chinotimba's remarks were irresponsible.
"We note with concern the reckless statements by purported war veterans like Joseph Chinotimba threatening to use guns on peaceful protesters demonstrating under the auspices of the Nera," Beta said.
"We used the gun during the liberation struggle to free the same people that the likes of Chinotimba want oppressed through the same instrument. By using the gun against the people, who does Chinotimba want to liberate?" He said people had legitimate reasons to protest and their grievances would never "be solved by firing volleys of expensive ammunition at the protesters."
"The demonstrators want food. They are women with empty pots because they have nothing to cook. They are unemployed but highly educated graduates who want jobs," Beta said.
"The demonstrators are the people reeling under extreme poverty caused by economic mismanagement and they are crying out to be heard by the managers of the economy. They are unarmed peaceful citizens who do not deserve to be annihilated by guns in the hands of fake war veterans."
He added: "When people demonstrate, they are not asking for war, they are asking for jobs, for a decent life, for freedom, respect and self-dignity, and these human attributes can never be found in the sea of poverty brought about by Mugabe's corrupt and irresponsible regime.
"The people deserve to be heard. They deserve their freedom that we fought for. They deserve a better life, not tear smoke, bashing or threats of war."