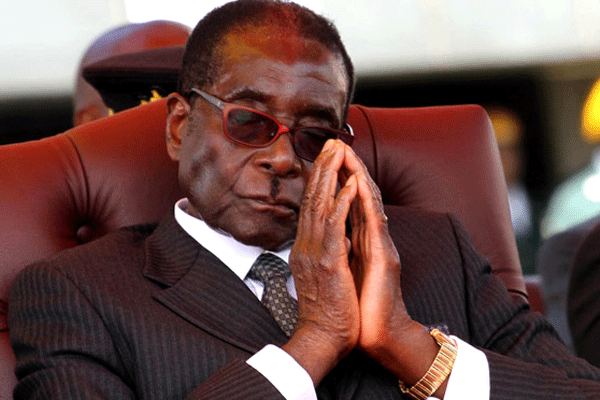 WAR Veterans minister Tshinga Dube yesterday claimed that a "third political hand" was behind the hard-hitting communiqué that triggered chaos in the Zimbabwe National Liberation War Veterans' Association (ZNLWVA), leading to their recent acrimonious fallout with both Zanu PF and President Robert Mugabe.
BY KHANYILE MLOTSHWA / MTHANDAZO NYONI
Addressing journalists in Bulawayo, Dube said his ministry would have been able to solve war veterans' problems had they not been fomented by "a political hand."
"At the same time, you will find that there is always a third hand in this. Now we hear that some of our war veterans are driving cars. Who bought them these cars? For what? They are driving around, not to organise their association, but on political agendas," he said.
Dube added: "If it was a situation of just war veterans, it was going to be easy to deal with, but some politicians are involved in this, making our job very difficult to perform.
"We have seen a split in the (Christopher) Mutsvangwa-led ZNLWVA and (Manicaland Provincial Affairs minister) Mandy Chimene-led factions of the war veterans' association. There has been wayward behaviour of some war veterans characterised by public pronouncements against the party and its leadership and the circulation of documents like Blue Ocean and the communiqué which have been alleged to be authored by war veterans.
"Such negative developments affect the party, the war veterans and the stability of the nation itself. It would be wrong to ignore this and act as if nothing has ever happened and, hence, the ministry encourages all parties concerned to unite."
He urged the Chimene faction to respect court rulings and stop masquerading as the ZNLWVA leadership.
"Our courts have been drawn to these problems and clearly ruled that a splinter group may not masquerade as representing the main group. We must show respect to our courts of law, the judges are recruited by the Judicial Service Commission and sworn in by the President. Ignoring the judgment of the court amounts to criminal contempt. It also shows disloyalty to the President," Dube said.
Dube took a swipe at war veterans for backstabbing each other to politicians in trying to prove that they were more loyal to the party.
"It is like a polygamous family where children compete for favours from the father. How do you know who is more loyal? How do you determine loyalty? Some of the so-called loyalists are doing all this to get favours. This issue of saying I am more loyal is very dangerous," he said.
He said his ministry was working on a number of projects to improve the welfare of war veterans including forming a security company.
"Since they are already trained people, they will do better than some of these people that you pick up in the streets and have to train. These projects are the reason why we want a united war veterans' body."