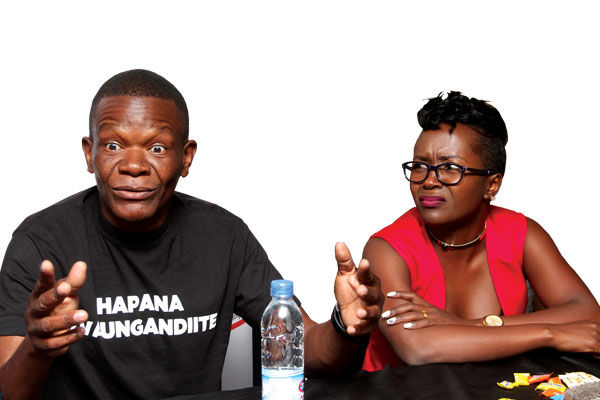 SOUTH Africa-based Zimbabwean comedian Baba Tencen could have ended up on the scrap heap of life's losers if he had allowed his background in the backwaters of Chivi to mould him. But because he opted for hard work and determination, he has built himself into one of the country's most sought-after comedians.
BY WINSTONE ANTONIO
The hilarious character, popularly known for his Kuripwa Kugara video skits, told NewsDay Weekender yesterday that he was overwhelmed that his gift to make people laugh had made him household name in Zimbabwe and South Africa.
Baba Tencen was speaking ahead of his maiden performance on home soil tonight at the Let's Laugh Again comedy show at the Harare International Conference Centre (HICC) alongside Ugandan Anne Kansiime.
"I grew up as a single-parented child in the rural community of Chivi, but I did not let my upbringing determine my destiny," Baba Tencen said.
"I am so humbled. Who could have thought a rural boy like me could be living in South Africa and making waves both at home and in foreign lands? But through God's grace, I am doing wonders."
What started off as a joke that he passed during lunch hour at his workplace as a gardener in South Africa has seen the 40-year-old Baba Tencen transforming himself into a top-notch comedian.
"When I recorded my first skit, Kuhwanda NeNyama, using my phone in 2006, it was out of fun only to be inspired and motivated by many people who began requesting for more of the skits after it went viral in South Africa and Zimbabwe and the rest is now history," he said.
"I have to thank my manager, Joe Tendai, who realised my potential and has moulded me into a professional comedian who is now able to feed his family."
The comedian has saluted Xtra Time Entertainment for making him part of the concert, something he said was encouraging.
"It is not easy that someone who is making videos in Shona is able to attract millions of people ahead of fellow talented comedians who are using English and for that fact I will keep on using my native language in skits to protect my brand," he said.
"I am now enjoying the fruits of my comic talent, which also can be done by anyone regardless of background," he said.
Baba Tencen has promised a rib-cracking night during which he will share the stage Kansiime. The Ugandan queen of comedy said people should bring tablets to cure the dosage of laughter she is to unleash at the show.
"Saturday (today) is going to be amazing. Please come in your numbers and laugh. I know you have problems, you have not paid rent, but tomorrow come and laugh," Kansiime said.
"I have truly been loved here in Zimbabwe that I feel like I am at home and I hope I can give back to you tomorrow."
Kansiime and Baba Tencen will share the stage with local comedian Q Dube, versatile beat boxer Probeatz, Samantha Kureya aka Gonyeti of Bus Stop TV fame, musician Mudiwa "Hood" Mtandwa and BaShupi.
Xtra Time Entertainment spokesperson Tonderai Mwaita said tickets for the show were selling at Reflections Gift Shop branches in Avondale, Sam Levy's Village and ZB Life Towers in the city centre via swipe, cash or transfer via EcoCash.