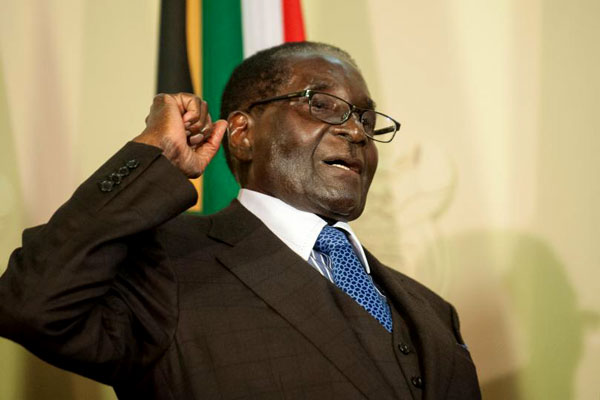 Twelve political parties have ganged up on President Robert Mugabe (pictured) and are planning a massive joint mass protest to demand the immediate implementation of electoral reforms ahead of the 2018 elections.
BY XOLISANI NCUBE
The parties — Morgan Tsvangirai's MDC-T, Zimbabwe People First (ZimPF) led by Joice Mujuru, the Welshman Ncube-led MDC, Zanu Ndonga, Zim-First and Zunde, among other signatories to the National Electoral Reform Agenda (Nera) — met in Harare yesterday and resolved to take Mugabe head-on in a protest march involving more than 200 000 opposition supporters.
Former Presidential Affairs minister Didymus Mutasa, the current Nera chairperson, said the planned demonstration was aimed at forcing the Zimbabwe Electoral Commission (Zec) to order the army, police and other State security apparatus to stay out of partisan Zanu PF politics.
"We don't want to see the army, police and the intelligence being involved in party politics. We don't want to see soldiers campaigning for Zanu PF or any other party. They must stay in the barracks, not in rural areas intimidating our villagers," he said.
"We are demanding that the State media be professional in the coverage of all political parties and that no State resources are abused by the ruling party or any party. I am saying this with hindsight and experience. I know what used to happen, so we are saying that must stop."
The ex-Zanu PF stalwart, a co-founder of ZimPF, warned the police from attempting to stop their demonstration, saying they would use the law to exercise their democratic right. "We will cross the bridge when we get to the river. What is critical is that we are going to demonstrate and we shall do so in accordance with the country's laws. Police should uphold the law and respect our rights. I know they will do so," Mutasa said.
In past polls, senior military officers have been accused of unleashing terror against opposition supporters in a bid to force them to vote for Mugabe and Zanu PF.
Top MDC-T official Murisi Zwizwai said the demonstration would also serve as a platform to bring together all political parties under one roof, as they prepare to formalise their coalition and rally behind one candidate to challenge Mugabe in the 2018 presidential race.
The protests, Zwizwai said, would be held on August 26 in Harare, with all opposition leaders on the frontline.
"As Nera, we want to congratulate the MDC-T and [Zimbabwe] People First for showing unity at the weekend. This is what Zimbabwe wants and we are really supportive of such a platform because it affords us an opportunity as Zimbabweans to work together and develop our country," Zwizwai said.
"It's not only the 12 political parties who are going to participate in this demonstration, but we are inviting all civic groups and social movements who want free and fair elections in Zimbabwe to join us.
"I am talking to war veterans, groups such as Tajamuka, #ThisFlag, #BeatThePot and others. This is our time to start preparing for a better, democratic Zimbabwe."
The planned demonstrations follow earlier petitions by Nera demanding a level playing field ahead of the crunch polls.
Other demands include that Zec takes full control of the voter register and the commission to embark on voter registration to ensure every eligible citizen an opportunity to vote in the next polls.
The group also demanded that Zec provides an electronic version of the current voters' rolls for inspection by all stakeholders and give an update on the delimitation exercise.