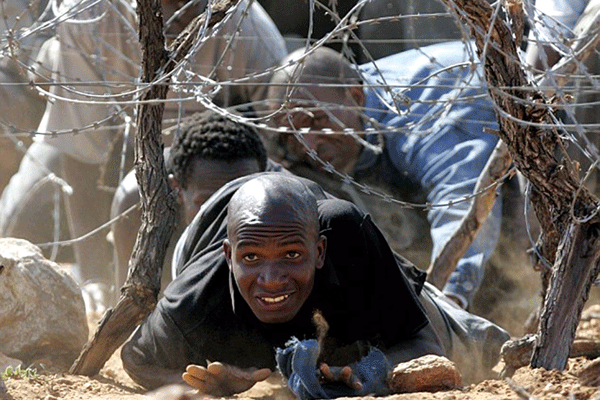 ZIMBABWE'S borders are still porous with people smuggling fuel and electrical appliances, while others are said to be "jumping" the border, and illegally transporting stolen livestock. Those caught by security personnel in Botswana are severely beaten.
BY VENERANDA LANGA
The issues were discussed in the Senate yesterday in a report issued by the thematic committee on peace and security on the state of the country's porous borders.
Chairperson of the committee Damian Mumvuri, told the Senate that the committee had got wind that the country's border posts had become porous, and were now conduits of smuggling, which was costing the country millions of dollars due to inefficiencies and operational deficiencies at border posts, particularly Beitbridge and Plumtree. The committee said there was so much smuggling at the Beitbridge Border Post of hazardous substances like fuel as well as human trafficking.
"Zimra officials bemoaned the porosity of Beitbridge border post, which has seen a lot of goods going through the river and finding their way into the black market, and consequently a lot of revenue is being lost," the committee report said.
"The Committee was also informed that the border post is too close to a residential area which creates a lot of unnecessary human trafficking, as well as touts and vendors loitering around the border post.
"There is rampant smuggling by cyclists and the rate of compliance with regulations is very low. Smuggling of hazardous substances like fuel and the abuse of the rebates were noted as prevalent. It was also submitted that the container depot at the border (Beitbridge) is full and courts were taking a lot of time to finalise cases so that goods held in the depot can be released. These are goods that would have been recovered from people smuggling and false declarations."
Infrastructure at Beitbridge border was said to be insufficient to cater for high volumes of traffic, considering some of the goods processed will be in transit to Malawi, Zambia, DRC and Mozambique.
"Month ends and public holidays are the busiest times. The movement is concentrated in the evening between 6 and 11pm till the early hours of the morning. Beitbridge border clears an average 450 000 travellers a month with the peak in December 2014 reaching 765 000 travellers. There are supposed to be various clearing points for the different travellers, buses, lorries, pedestrians and motorists but all this is currently being processed through one checkpoint which causes congestion at the border," reads the report.
The committee expressed worry over buses which were said to be trafficking undocumented persons from South Africa.
"The Beitbridge Town Council submitted that Zimra was making $2 million a day from Beitbridge border post and the Town Council would need a stake in the form of a community share ownership to develop the town."
At Plumtree Border Post, which is the second largest in the country, the committee during their investigations, found that deportations from Botswana had declined in the past three years, but those caught were severely assaulted.
"Botswana has since intensified their inland system of removing illegal immigrants. The Committee managed to witness a group of Zimbabweans at the no man's land between Zimbabwe and Botswana who had been deported. They could hardly walk and had wounds all over their bodies. They submitted that they had been beaten up by both the Botswana police and the traditional chief courts.
"There are problems of touts and vagrants and the Immigration Department suggested an amendment of the Protected Places and Areas Act so that all border posts can have the status of protected places accorded to them."
The senators said there was no road on the Zimbabwean side to enable police and security agents to patrol the border area with Botswana, giving an advantage to smugglers, who took advantage of the unpoliced border crossings to smuggle fuel and electrical appliances.
Different senators said they were worried by rising cases of stock theft, as well as wildlife such as sables from either side of the borders.
They also said porous borders were a threat to national security, as the country can be attacked at any time using the unsecured borders, as well as being a threat to global peace and security, especially taking into cognisance the invasions of Democratic Republic of Congo and Mozambique by rebels.
Matabeleland South senator Tambudzani Mohadi said the thieving of animals was rampant to the extent that people were crossing live ones such as sables across the Limpopo River.
"There were 28 sables caught around Nottingham area crossing to South Africa," Mohadi said.
Manicaland senator Keresencia Chabuka said deportees who were arrested tried to cross to South Africa again as soon as they were released.
"Deportees from South Africa are deported in the morning and put in a holding camp, where they are fed. When they are told to go to their homes, within two hours, they will have found their way back into South Africa. We asked why they are not given transport to ferry them to their respective homes and we were told that Government had no money to pay transporters to ferry them to their rural areas," she said.
Treasury also told the committee that they have no money to pay transport fares for the deportees to their rural homes.
Chabuka said petrol tankers smuggling fuel through the borders used cyclists who reinforced their way through the weak border patrols, as well as bringing in other contraband.
This week, Home Affairs Minister said government has allocated $600 000 for infrastructure development of border posts, especially Beitbridge.
Statistics from the Zimbabwe Chamber of Commerce claim that Zimbabwe loses $2 billion a year, which is half of the country's budget through smuggling.