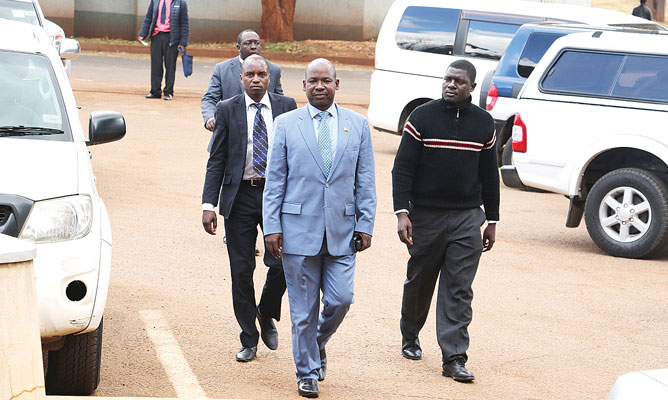 There was drama at the Harare Magistrates' Court yesterday when a lawyer representing suspended Prosecutor-General (PG) Johannes Tomana, Tazorora Musarurwa, exchanged harsh words with magistrate, Tendai Mahwe over the bail amount.
BY MARY TARUVINGA
Tomana appeared in court answering to five counts of criminal abuse of office following his decision to allegedly illegally withdraw charges against former legislator Bright Matonga, former Zupco boss, Charles Nherera, Beauty Basile and Patrick Mavros during his tenure of office.
Tomana was arrested last week, but was released after questioning, only to be brought to court on summons.
Prosecutors, Gwinyai Shumba and Timothy Makoni consented to his release when he appeared in court citing section 117 of the Criminal Procedure and Evidence Act, which provides that bail conditions can be relaxed if one is appearing in court from home.
However, Mahwe ruled that the cited section did not mean what had been said and granted Tomana $2 000 bail coupled with $250 000 surety and stringent reporting conditions. The decision by the court did not go down well with Tazorora, who then asked the court to give reasons. But Mahwe said if he felt his ruling was wrong, he should approach the High Court.
"If you feel the court's ruling is wrong, the only remedy you have is to approach the High Court because this court's ruling cannot be reversed," he said.
"We did not say the court's ruling is biased, but it is unheard-of that the court makes a decision without hearing the defence's side. We only wanted to make our submissions. We wanted to address the court on the issue of the section mentioned, as well as the issue of bail quantum. Where is the figure coming from?"
The magistrate then went on to say Tazorora was biased, as his ruling was clear and final. The two continued arguing before the lawyer grabbed his files saying: "We are very disappointed and we will take action against you for this unprofessional conduct. This is really unheard of."
Tomana, who was all the time shaking and nodding his head while in the dock, walked straight to the cells without being directed to do so.
According to the State, Tomana withdrew charges against Matonga, who was facing culpable homicide charges after fatally knocking down Chipo Chikowore in 2006.
On another count, he is accused of having declared that former Zupco chairperson, Nherera, had been wrongly convicted and sentenced to three years' imprisonment for corruption. He went ahead and caused his acquittal.
Mavros was found in possession of 9 008,1 grammes of gold without a licence and Tomana declined to prosecute him.