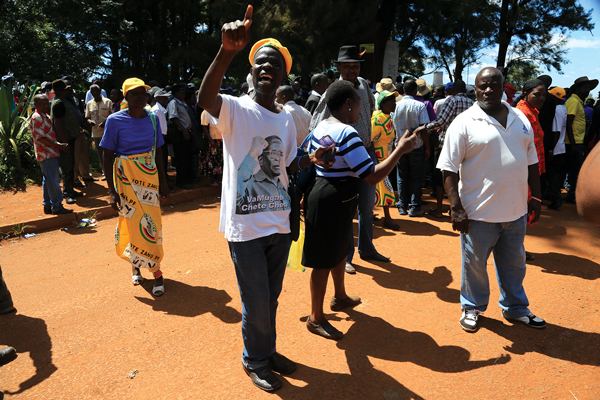 President Robert Mugabe's threat to war veterans at the Zanu PF politburo meeting on Thursday has clearly shown the nation that to Mugabe, everyone who disagrees with him is a dissident and needs to be squashed the same way he squashed tens of thousands of people during the Gukurahundi massacres in the mid-1980s.
Kurauone Chihwayi,MDC national spokesperson
The MDC is utterly shocked that as the country is still trying to come to terms with the senseless killing of thousands of innocent people in Matabeleland and Midlands at his command, Mugabe has the temerity to utter a reckless statement like: "Dissidents tried it, and you know what happened." These shocking utterances are the clearest signal yet that this person we call a President is unrepentant over his role in the killings of thousands of innocent people during Gukurahundi.
At his old age, we expect him to be asking for forgiveness and exercising wisdom in words and deeds, but he is giving the people of Zimbabwe the exact opposite. It is unfortunate that this sickening tirade from Mugabe has just taken efforts and what little progress there was towards peace and reconciliation in the country a thousand steps backwards.
His rant was a stark reminder of the sheer evil, hate and selfishness that drove Gukurahundi whereby some people like Mugabe believed they were gods and could dictate who should live or be killed.
While it is easy to dismiss these utterances as being a result of senility and old age, it is clear that Mugabe, through anger and hate, allowed his guard to drop and spoke the evil that is truly in his heart.
That all of a sudden he realises that the role of war veterans is to lobby for the welfare of former liberation fighters and not engage in Zanu PF internal politics when for the past three decades he has used them to unleash violence on opposition supporters to assure his continued stay in power exposes Mugabe's shameless hypocrisy.
It is clear Mugabe no longer has any use for the war veterans as long as they do not support his agenda of appointing his wife as his successor.
Write to us at letters@newsday.co.zw Head Office Stand No. 17382, Graniteside. Cnr Bessemer/Strand Road, Harare