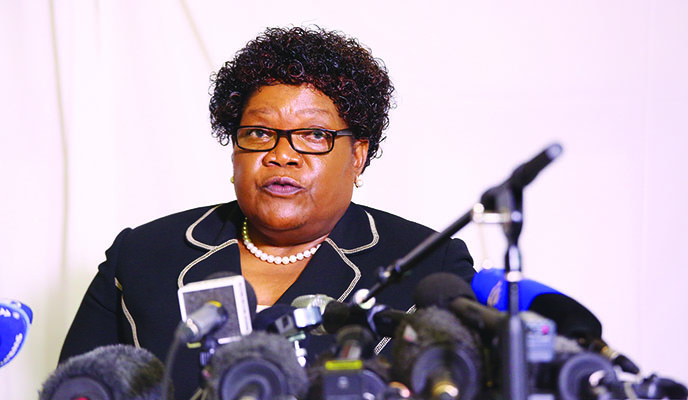 THE ruling Zanu PF party has allegedly upped its violent campaign against former Vice-President Joice Mujuru's Zimbabwe People First (ZimPF) supporters in Mashonaland Central province, where her party officials were attacked and had their property destroyed.
by EVERSON MUSHAVA/RICHARD CHIDZA/ALBERT MASAKA
ZimPF Mt Darwin ward 8 co-ordinator, Jefta Muchena, said he was attacked on Monday night by more than six gun-toting Zanu PF supporters, who pulled down his fowl run and stole 81 chickens.
He said the raid came after Zanu PF supporters held a meeting at Ruwani Primary School, where they openly declared they would target him.
"They were pointing a gun at me and pulled down the walls of my fowl run and took away 81 chickens," he said.
Munyaradzi Chigumira, a ZimPF district co-ordinator in Mt Darwin, said party members were now living in fear of attacks from Zanu PF militias.
"Mt Darwin South constituency co-ordinator, George Zishiri was admitted at Mt Darwin District Hospital after he was dragged to a Zanu PF rally and publicly assaulted," Chigumira alleged, adding the Kazai Primary School headmaster was also assaulted for associating with the opposition party.
He claimed most of the cases were reported to the police, but the suspects had not yet been arrested.
The latest attacks follow attempts by police to block Mujuru's campaign rallies in most parts of the country, with the courts always coming to her rescue.
ZimPF Mashonaland provincial co-ordinator, Godfrey Chimombe confirmed the latest wave of violence against Mujuru's supporters.
"We are building our structures for the convention in October and so, most known supporters like ward and district co-ordinators are being targeted for violence," he claimed.
"People are also being attacked for attending our meetings. As I speak, several ward and district co-ordinators, especially in Mt Darwin district, have been assaulted because these are the known supporters of ZimPF."
But, Zanu PF provincial chairperson, Dickson Mafiosi dismissed the ZimPF claims, saying the ruling party had no time to attack members of a "confused and non-existent party".
"They (ZimPF members) are beating each other up because they are confused. We don't have time for confused people," he said. "How can we beat up people who do not even have structures? They are divided because it is a combination of disgruntled Zanu PF and MDC members."
He said most former Zanu PF members in ZimPF should just admit that they were finding it difficult to be part of opposition politics. Mujuru, who was fired from Zanu PF for allegedly plotting to oust President Robert Mugabe, has thrown her hat into the ring to challenge her former boss in the 2018 presidential race.
ZimPF spokesperson, Rugare Gumbo said Zanu PF tactics such as violence, intimidation and coercion would not work because the electorate wanted change.
"People want a party that will bring food to their tables, which Zanu PF has failed to provide. So such tactics will not work," he said. The alleged attacks came as some ZimPF founding members were reportedly rejoining Zanu PF, accusing Mujuru of playing the party cards close to her chest.
These include former Harare Zanu PF youth leader, Jim Kunaka and Kudzai Saruwaka.
Kunaka confirmed his defection to Zanu PF on Tuesday.
"Our agenda is not based on forming opposition parties without direction for the sake of being opposite. We seek to influence those in leadership towards the building of a better Zimbabwe," he said.
"I am appealing to the entire Zanu PF family to accept me and my colleagues. I have spoken to Zanu PF political commissar, Saviour Kasukuwere and he has asked me to rejoin the party. I had intended to take a rest, but now I am going back to my party."
Gumbo said Zim PF would not stand in the way of those who wanted to rejoin Zanu PF.
"Well, they have the right to do that and we will not stand in their way. In any case, most of these people were not paid-up members as yet, but sympathisers," he said.