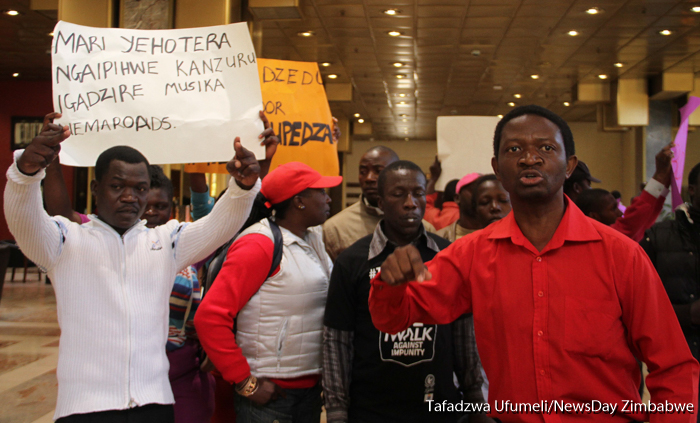 NATIONAL Vendors' Union of Zimbabwe leader, Stern Zvorwadza, appeared at the Harare Magistrates' Court yesterday charged with threatening to torch Rainbow Towers Hotel in protest over Vice-President Phelekezela Mphoko's continued stay at the facility.
BY MARY TARUVINGA
Zvorwadza (38), who was arrested on Sunday was granted $200 bail and ordered not to set foot at the hotel until finalisation of the matter.
Regional magistrate Vakai Chikwekwe remanded the matter to July 13 for trial.
The State alleges that Zvorwadza on Sunday caused a scene at the hotel and insulted police officers sent to arrest him.
The court heard that the activist-cum-unionist stormed the hotel together with eight others and proceeded to the foyer and police ordered him out.
He allegedly started shouting at the police before he proceeded to the main entrance and shut the doors.
The court heard he demanded that police officers should instead vacate and let him and his colleagues stage their demonstration peacefully since it was their constitutional right.
He is alleged to have said that Mphoko was wasting taxpayers money by staying at the hotel yet refusing to stay at a government house bought for him.
Zvorwadza is alleged to have told the hotel staff that Mphoko should check out by Friday, failing which the youths would set the hotel ablaze.
Sebastian Mutizirwa appeared for the State.