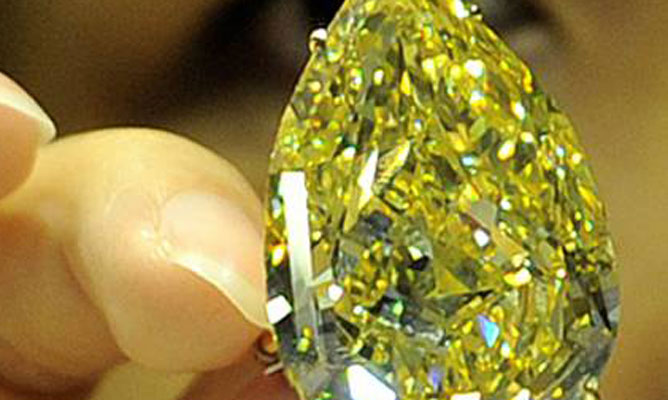 THE government's crackdown on diamond mining firms following years of vanishing revenues has brought much of the free-for-all seen before the previous set of attempts to regulate the sector, with illegal panners swamping the area and selling their wares to foreign dealers who don't pay tax or contribute to the local economy.
BY OBEY MANAYITI
Mines and Mining Development minister, Walter Chidakwa, announced in February that the government was ordering all the nine companies in Chiadzwa to stop their operations.
The minister said the companies were not contributing enough revenue to the State coffers and thus, government was setting up one diamond company Zimbabwe Consolidated Diamond Company (ZCDC).
According to Chidakwa, ZCDC is set to improve revenue inflows into the cash-strapped government's coffers, although the new company is facing new challenges which resulted in the firing of top management a few months after their appointment.
During his 92nd birthday interview, President Robert Mugabe revealed that almost $15 billion was lost through illicit financial flows during the five years when commercial diamond mining commenced in 2009.
The country's former Finance minister in the Government of National Unity, Tendai Biti said government only received $274 million from diamond revenue in 2010, $45 million (2011), $45 million (2012), $5 million in 2013 and nothing to write home about in 2014 and 2015.
He attributed this to illicit financial flows, which were being facilitated by mining companies and government officials.
Before 2009, illegal panners and dealers, most of them of foreign origin, were controlling the diamond fields where the law of the jungle reigned supreme. Law enforcers assigned to guard the mines were complicit in crime, taking bribes from illegal dealers to allow people access to the diamond fields.
An investigation by NewsDay revealed that government's latest decision has taken the diamond sector back to the period before government-regulated diamond mining.
The law enforcers were also forming their own syndicates with illegal panners and they were sharing the proceeds among themselves and the government was not benefitting anything.
Some panners who spoke to NewsDay said they were bribing authorities to gain entry into the diamond fields and would sell the diamonds to local and foreign buyers, who will smuggle the diamonds out of the country.
They said they will spend the day in nearby mountains or homesteads to avoid detection and arrest, but will use mobile phones to communicate with law enforcers or buyers on updates.
"We get into the diamond fields nearly every night. We only deal with particular officers whom we would have arranged with or those, who would have arranged with the buyers. When allowed in we would quickly rush to disused mines or areas suspected to have massive diamond concentrate to take out some ore," a panner said who refused to be named.
"After some time in the field we would then leave for our bases and reconnect with the officers or buyers later. On numerous occasions we were given the money to bribe officials by the buyers but in turn we will have to sell the diamonds to them.
"Most of the buyers stay in Mutare, but they come every night to make sure that we get into the fields," added the panner.
He said on average he earns about $150 to $300 a day after sharing the money they would have made.
Although police spokesperson in Manicaland Assistant Inspector Luxson Chananda professed ignorance on the allegations, some police details based in Mutare, who claimed anonymity said they are aware of unlicensed buyers who often deal with their superiors as a way to seek protection.
"We haven't received such reports as yet. We will check," Chananda said.
The officer said because of the hard times faced by the country, it was easier for illegal buyers to bend rules and take diamonds outside the country.
Most buyers will skip the country through illegal crossing points into Mozambique where they will then connect to their preferred destinations, mostly Asian countries.
Centre for Natural Resource Governance Farai Maguwu said they have documented close to 100 illicit buyers who take diamonds from the formal markets.
"At the moment between 300 and 500 artisanal miners enter Marange diamond fields every day. Most of their activities are conducted at night for security reasons. I estimate that the number of buyers range from 70 to 100. Some of the buyers are Zimbabwean, mostly residing in Mutare. The big dealers are in Harare," Maguwu said.
"Law enforcement agents have drastically changed their approach towards diamonds. At first, back in 2008, they were less involved in diamond dealings. But events that unfolded between 2009 and 2015 caused most of them to regret why they had not participated in digging and dealing in diamonds."
He said law enforcement agents were now complicit in the deals.
"Similarly when they track down foreign dealers its not to enforce the law but to receive their portion of the loot — otherwise the dealers would not remain in business for so long," he said.
Zimbabwe coordinator of the Kimberley Process Civic Society Shamiso Mtisi said previously they had warned government on the need to secure the diamond fields to avoid chaos.
"We warned government about the need to make sure security is provided in Marange to curb illicit dealings. We said they should put all necessary measures to curb both illegal trade and mining. We also spoke on the need to bring in new investors with new capital so that production will improve.
"We have always advised government on how to bring together the mining companies gradually and effectively without opening up the fields to illegal panners and traders," Mtisi said.
Cephas Makunike of the Tax Justice Network-Africa based in Kenya said the government must ship up to stop the mess in Chiadzwa.
"Where the current status quo is bad is the fact that there is currently weak security to safeguard the Chiadzwa diamond fields from looters. The question which arises from this is whether it is deliberate or not and whose interest it is furthering," Makunike said.
"Going forward the government has to follow good governance tenents so that when the Chiadzwa diamond mining resumes the State and all citizens and future generations of Zimbabwe will benefit," he said.
Makunike said there are many mining fiscal/tax regimes which the government can pursue as long as this would ensure the efficient and effective revenue realisation as well as the broadening of the tax base.
In addition, he said the government should have a good management system for mining revenues such that the mining sector can have forward and backward linkages with other economic sectors and actually be the driver of industrialisation as well as setting up a sovereign wealth fund.
"This entails, among others, a mining revenue management regime which prioritises capital expenditure over recurrent expenditure as well as the development of a working fund such as a sovereign wealth fund which will act as an investment vehicle for mining revenues which will ensure that future generations will benefit from current mining especially when the diamonds get depleted as they are not renewable and also provide finance for the country in difficult situations," he said.
Since the formation of ZCDC, government officials have been defending the current set-up, while dismissing the flooding of illegal diamond buyers and panners.
ZCDC board chairperson and Mines and Mining Development permanent secretary Francis Gudyanga appeared before a Parliamentary committee on Mines and Energy over ZCDC where legislators blamed him for failing to run the new company on June 20.