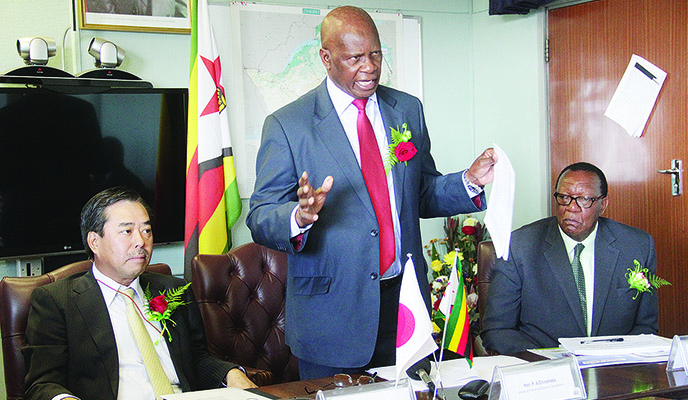 FINANCE minister Patrick Chinamasa has urged parastatals to be transparent and more accountable to the public through observing tenets of good corporate governance including the holding of annual general meetings (AGMs).
BY TARISAI MANDIZHA
Speaking at the POSB annual general meeting in Harare yesterday, Chinamasa said the bank should enhance transparency and accountability in the manner it conducted its affairs and that annual general meetings gave the institution and the shareholders an opportunity to get a deeper appreciation of its affairs.
He said the government will continue to ask State-owned enterprises to hold AGMs and they should recall that such meetings were an integral aspect of good corporate governance.
"Government also wants transparency, accountability and integrity in our institutions and we are going to work very hard to see that these values are promoted," Chinamasa said.
Commenting on the POSB financial position, he said it was clear the overall financial situation was acceptable and government was happy with the direction of the overall indication of financial stability, which has improved from about 0,19 in 2014 to about 1,737 in 2015 Chinamasa said a score below 1,1 indicated a state of financial distress.
"My comparison also indicates that even if you managed to make a small profit in 2014 at that time your overall financial position was very unfavourable, but I am happy to note that this has significantly improved and changed in 2015 and you seem now to be in a favourable financial position and I want to urge you to maintain that and continue to improve," he said.
Commenting on related party disclosures, Chinamasa sought clarity on members who constitute the key management because the report indicated that its key management has $1,145 million outside loans and it was important that shareholders have an idea on the key management personnel. In respect to disclosures, he said the bank was issuing loans to non-executive board members and there was an outstanding amount owed by a retired non-executive board member.
He said the practice should be stopped and non-executive board members should not be granted the loans facility because it compromised their oversight role over management.
Chinamasa said POSB was moving in the right direction in terms of its income, with the bulk of it coming from interest on loans, instead of bank charges, fees and commission.
Fees and commissions in 2014 contributed 80,5% and in 2015 contributed 63,5%. Net interest income's contribution to total income jumped to 33,1% in 2015 from 18,4% in 2014.
Loan to deposit ratio increased to 76% last year from 67% in 2014.
Chinamasa urged the bank to put in place strategies to manage potential credit risk that comes with an increase of loan to deposit ratio.
POSB chief executive officer Admore Kandlela said the bank recorded a profit of $7,91 million, a significant improvement from a profit of $1,25 million recorded in 2014 due to effective utilisation of existing products as well as introduction of new ones and delivery channels resulted in the favourable bottom line.
He said the bank's non-performing loans to loan ratio remarkably declined to 10,8%, compared to the market average of 16%.
The bank declared a dividend of 25% ($1 977 500) to the government, the shareholder, and passed a resolution to pay auditors fees of $55 900.