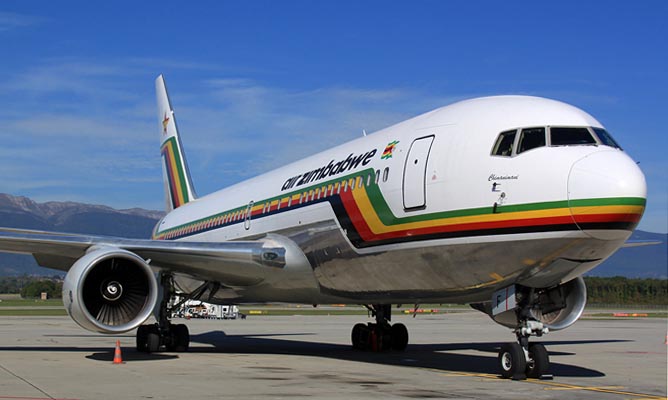 Government has identified 12 airlines that can work with Air Zimbabwe, as it searches for a strategic partner to turn around the fortunes of the airline.
By TARISAI MANDIZHA
Transport and Infrastructure Development minister Jorum Gumbo told guests, at the official opening of the Iata Day in Victoria Falls yesterday that the new strategic partner would be at par with government in terms of shareholding, saying the 51:49indigenisation threshold would not apply.
"Whoever is going to come, will come at par with Air Zimbabwe. Indigenisation is not applying here, there are areas reserved for us and the 51% will apply, but in other areas.
"You can't say 51:49. As Zimbabweans, let's not send the wrong message. In this instance it is not going to apply. We are looking at someone who will partner with us at par," he said.
Gumbo said discussions were underway with the said airlines.
"We have identified 12 airlines to be coming to Zimbabwe very soon, we are engaging them to partner with us. We are in discussions and we have identified airlines which can partner us. We have been given permission by Cabinet to engage them and the terms of reference have been established," he said.
The softening of the rules on the potential partner comes as the airline is creaking due to obsolete equipment and low passenger numbers attributed to increased competition.
Air Zimbabwe general manager, Christopher Kwenda told guests the airline was facing high operating costs.
"We now have competition, basically, if we look at our route to Victoria Falls, traffic is not increasing yet there is competition. So it calls for innovation from all other players," he said.
Kwenda said the antiquated equipment was consuming a lot of fuel, but the airline would continue to innovate so it stays afloat.
"We have to improve our efficiencies where we operate, so that we can mitigate the high operating costs occurring.
We will continue, as an airline, to work and utilise the available equipment and the human resource," he said.
Gumbo said the government was working on the upgrade of airports for them to accommodate bigger planes. The upgrade started at Victoria Falls International Airport.
Gumbo said the Victoria Falls International Airport would have a passenger handling capacity of around 1,5 million per year. He said the new runway would be able to accommodate wide body aircraft such as the Airbus A340, Boeing 777 and Boeing 747.