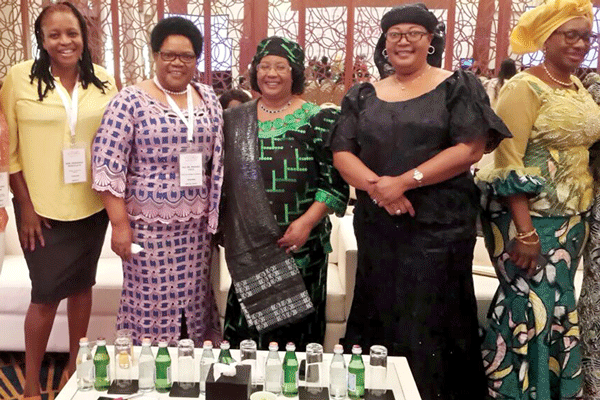 FORMER Vice-President and opposition Zimbabwe People First (ZimPF) leader Joice Mujuru yesterday received a global award in recognition of her "bravery and courage" to stand up against President Robert Mugabe's misrule.
BY RICHARD CHIDZA
The award was presented to Mujuru at an event in Dubai by the International Sheroes Forum, a global initiative that gathers leading women in all spheres of life.
She was accompanied by two other leading Zimbabwean female opposition politicians Priscilla Misihairabwi-Mushonga (MDC) and MDC-T vice-president Thokozani Khupe.
"We are in Dubai with madam Mujuru and she has just received an award from Sheroes for bravery and courage," Misihairabwi-Mushonga said, adding that former Malawian president Joice Banda was one of the organisers of the event.
Mujuru, who has thrown her hat into the ring to challenge Mugabe in the 2018 elections, also attended a private reception for US civil rights activist and broadcaster Xernona Clayton in Dubai.
Clayton, former vice-president of the US media conglomerate Turner Broadcasting and the founder of Trumpet Awards which honours the achievements of African-Americans, was guest speaker at the event. She also sits on the board of the King Centre for Non-violent Social Change, having worked with Martin Luther King (Jnr) in the US civil rights movement.
The ZimPF leader was hounded out of Zanu PF, along with other liberation stalwarts and party bigwigs, in December 2014 as the ruling party drifted into fierce succession and factional fights, forcing her to join the opposition camp to fight Mugabe.
ZimPF spokesperson Rugare Gumbo yesterday welcomed the award and said they were "heartened" by the recognition.
"It is heart-warming that the world recognises her for her bravery in the face of adversity. We all know how she has been vilified and we are happy that some people even beyond our borders are taking note of her work. The award is good for her, for the party and for Zimbabwe. We are still to get the finer details though," Gumbo said.
Gumbo chastised Higher Education minister Jonathan Moyo's unsolicited rant on social media over Mujuru's Middle East jaunt.
Moyo, notorious for not holding back on social media, used his micro-blogging Twitter account on Friday to claim that the former Vice-President was in Dubai to seek financial assistance for her fledgling ZimPF party outside the country in contravention of the country's laws on political parties' funding.
"Joice Mujuru, looking bemused here (referring to a picture) at launch of her @ZimPeopleFirst, left for Dubai last night (Friday) to meet funders!" Moyo claimed last Friday in a post on his twitter account.
But Gumbo described Moyo's claims as unpleasant and a case of sour grapes.
"It is stupid and low for Moyo to waste energy on how private citizens conduct their lives. Mujuru never said she was travelling to seek funding; she has a right to attend any gathering as she sees fit and Moyo must learn to live with that.
"Mugabe has spent millions (of dollars) that could have been channelled to social services badly needed at home, but we have not questioned that. In fact, Zanu PF has consistently received funding and material aid from outside and nobody has questioned that," Gumbo said.
Zanu PF spokesperson Simon Khaya Moyo could not be drawn to comment on both Moyo and Gumbo's claims saying he was not even aware that Mujuru was outside the country.
"We do not respond to issues from another party. If anybody has raised those issues including Zanu PF members, ask those. We are not aware Mujuru is visiting Dubai," Khaya Moyo said.
At 92, Mugabe has received brick-bats from across the political divide for his frequent travels outside the country mainly to seek medical treatment for undisclosed ailments that his handlers have characterised as "routine eye cataracts check-ups".
In the process, Mugabe and the First Family have gobbled millions of taxpayers' money on their foreign medical trips.
Gumbo said Moyo's rants were meant to incite other Zanu PF legislators to have Mujuru's trip debated in Parliament and possibly have her charged for contravening the Political Parties Finance Act which prohibits parties from receiving foreign funding.
"We are aware that it is nothing but part of a smear campaign against Mujuru because they are scared of the political challenge they will be facing now. They are confused and do not know how to react. Whether Mujuru is attending a leadership conference, raising funds for her party or visiting family and friends has nothing to do with Zanu PF," Gumbo said.