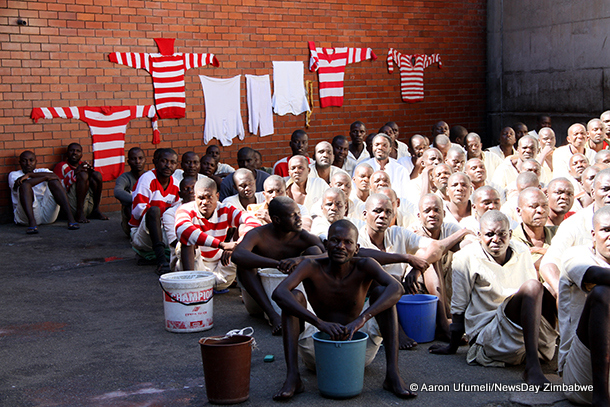 Prison officials have lamented overcrowding in correctional facilities which is fuelling sexual violence and posing a serious public health problem.
By Phyllis Mbanje
Speaking during a media briefing convened by SAfAids on domesticating Sadc minimum standards for good prison health, Assistant Commissioner Alfrod Dube, who is the deputy director of health in the Zimbabwe Prisons and Correctional Services (ZPCS), said the situation was being worsened by lack of isolation facilities.
"Isolation facilities, which are critical when handling prisoners with infectious diseases, are not available. We are saying this hampers progress of ensuring that good prison health strategies are followed," he said.
Dube said while some prisoners offered sex for protection or small luxuries like cigarettes, many were being forced into the acts.
"Diseases like HIV and Aids are being exacerbated by rampant sexual activity and even though we provide condoms, many will still not use them," he said.
Although the government does not recognise issues of men having sex with men which is actually a crime, the partners have taken to distributing condoms in prison to stem the spread of HIV and Aids.
For years the poor conditions have persisted in prisons and health has remained one of the biggest challenges.
Giving an overview of the regional advocacy agenda towards implementation of the Sadc minimum standards for health in prisons, SAfAids senior programme officer Percy Ngwerume said detainees' basic needs like shelter, access to basic medical care and respect for human rights must be met.
Of utmost importance was the issue of legislation which would look into issues of men who have sex with men, and injecting drug users.
"Evidence-based policies outlining procedures for infection control, treatment, care and support in prisons should be in place," Ngwerume said.
Some of the parameters of the Sadc minimum standards looked at reduction of imprisonment and pre-trial detention.
A 2014 study by the Zimbabwe Lawyers for Human Rights and the Law Society of Zimbabwe on pre-trial detention in Zimbabwe found that the number of pre-trial detainees was high — approximately 30% of the total prison population — due to inefficiencies in the country's justice delivery system.
Meanwhile, the issue of giving conjugal rights to prisoners to reduce sexual violence remains a hot subject which has not gained enough support.