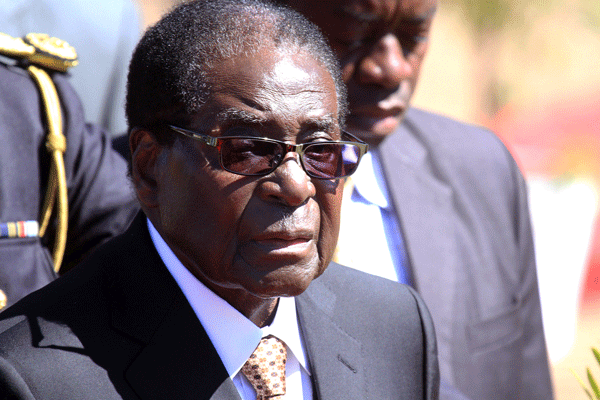 PRESIDENT Robert Mugabe and war veterans have been entangled in a love-hate relationship for years, and in recent months, the flirtation birthed during the 1970 liberation war has come full circle.
BY EVERSON MUSHAVA
First Lady Grace Mugabe's entry into politics and the increasing influence of G40, a Zanu PF faction made up mostly of people without liberation war credentials, have stirred a storm in the now fractious party.
Mugabe himself admitted to the fluid relationship when he addressed a rally in Bindura last month and after he had touched down at the Harare International Airport from his Japan trip last Saturday.
He said things were not rosy between him and the former combatants, but vowed not be cowed into submission by what he termed a mere "associate" of Zanu PF.
With the war vets responding on Sunday by daring their 92-year old leader, claiming they were the true owners of the revolutionary party, Mugabe's meeting with the former fighters tomorrow promises fireworks.
Both Mugabe and the war vets have refused to shoulder the blame for their antagonism with each other.
Mugabe and his love for power Mugabe ,Zimbabwe's sole leader since the country's independence in 1980 — having taken the reins of Zanu PF in Tanzania, through what became known as the Mgagao Declaration of 1975 — courtesy of the war veterans, has proved to be a man ,who detests competition.
Often thought to be a charismatic leader and shrewd tactician, Mugabe is notorious for his ruthlessness when dealing with any threat to his hold on power.
History is awash with tales of skeletons of people who dared him — the 1980s Gukurahundi massacres deserve special mention of Mugabe's vindictiveness in the face of political threats.
Mugabe's callous action against his deputy for 10 years, former Vice-President Joice Mujuru and the many bigwigs accused of working with her in an alleged plot to oust him — all but confirms the veteran leader's desire to hold on to power at any cost.
Zimbabwe's political field is strewn with dumped former comrades, who dared to confront him.
After having been helped by the late army general Solomon Mujuru to rise to power, Mugabe revealed last month at a rally in Bindura that his relationship with Mujuru had reached a tipping point when the decorated soldier called him to leave power.
Mugabe's obsession with power has driven his love and hate relationship with the war vets. The veteran leader has been deploying the war vets during elections to mobilise support for Zanu PF, but the relationship took a knock when the ex-combatants — under the leadership of Jabulani Sibanda — began to threaten his stranglehold to power.
"Zanu PF has used war veterans affiliated to it to advance its political agenda, in return for some welfare favours," Agrippah Mutambara, whose Chimurenga name was Dragon Patiripakashata, said. He said the war vets were Mugabe's darling as long as they prop him up, but become enemies when they threaten his power.
Mugabe last month lashed out at war veterans who he said were now a bad influence to the youth, and had gone as far as China mobilising for his ouster. But he immediately pleaded with the former fighters not to form a political grouping, as it will cost Zanu PF in elections.
"His plea to the war veterans at the Bindura meeting shows that he is not willing to have the war vets join Mujuru, as this will have serious repercussions on his stranglehold on power," political analyst Alexander Rusero says.
Despite growing calls for Mugabe to retire, the 92-year-old leader has vowed to hang on until the next party congress in 2019.
Family interests and the Grace factor Grace's first task in politics was to "baby dump" Joice Mujuru because she was a threat to the First Family after the departure of Mugabe, whom she claimed Mujuru wanted to remove "the Gaddafi way".
Soon, it became clear Grace enjoyed the support of Mugabe and of late the same allegations were levelled against Vice-President Emmerson Mnangagwa's Team Lacoste faction, which had hoped to be a beneficiary of the Mujuru ouster.
Mnangagwa, according to Grace, was instrumental to the bombing plot of Gushungo dairy, a business empire owned by the First Family, and he deserved to go the Mujuru way. Zimbabwe National Liberation War Veterans Association (ZNLWVA) chairperson Christopher Mutsvangwa had been too vocal against the First Family.
Mugabe set the police on the former fighters in a move to disrupt a meeting that was allegedly targeting Grace.
Analysts contend that Mugabe will not compromise on matters to do with his family, hence the drastic action taken against the war veterans.
"They are now a bad influence to the youth, the youth now say a lot of bad things about the First Lady on social media, this is unheard of in our culture for youth to scold their elders," he said at the Bindura rally.
Although the relationship with the war veterans had its ups and downs, it was Grace's open attack at the ex-combatants that brought things to a head.
"Some will say because I went to war, then I have a right to do whatever I want. Are you the only ones who went to war? There are others who fought in that liberation war and are still toeing the party line," Grace told Zanu PF supporters at a rally in Rushinga last year.
The war vets drew Mugabe's anger when they dared Grace, with a Masvingo war vet Francis Zimuto telling Grace to leave politics and concentrate on cooking for her husband. He also said they only considered Mugabe's first wife, the late Sally Mugabe as the First Lady.
Vanguard of the party, not the revolutionWar veterans met in Gweru last month and took an unprecedented move, passing a vote-of-no confidence against Vice President Phelekhezela Mphoko, Local government minister Saviour Kasukuwere, Higher Education minister Jonathan Moyo and many others.
Justifying their actions, ZNLWVA spokesperson Douglas Mahiya said: "The war veterans are the owners of Zanu PF. Zanu PF cannot afford to ignore its forces in as much as Zanu and Zapu could never have ignored Zipra and Zanla."
Indeed, the ex-combatants have been the vanguard of Zanu PF rather than the ideals of the liberation struggle and Mahiya's statement can be viewed as a challenge to Mugabe who they put as their leader and he should accede to their demands.
But Mutambara said the first basic fundamental error the ZNLWVA made that was militating against them was to nominate Mugabe, the leader of a political party as its patron.
"By this act, the association lost its autonomy and neutrality and became an appendage of Zanu PF or another wing of the party," he said.
He said war vets became conduits of Zanu PF political machinations and failed to realise that their duty was to protect the ideals of the liberation struggle. And when they resisted Zanu PF, after initially submitting themselves to the party, their problems started.
"They are now constantly being reminded that 'it is politics that directs the gun' as if they are still in the armed struggle and are not normal beings, because they have chosen to redefine their roles," Mutambara said.
He said while it was their constitutional right to support Zanu PF, acting as conduits of the same injustices that forced them to take arms against the Rhodesian regime showed that they were the vanguard of Zanu PF.
He said the war veterans were now paying the price for dumping the revolutionary ideals and propping up political party ideals.
War vets and factionalism "Why are you in the wrong basket," Mugabe quipped at former Masvingo Provincial Affairs minister Kudakwashe Bhasikiti soon after the latter was ejected from the party.
Bhasikiti is the Shona word for "basket".
War veterans have also been in the factional matrix and their waterloo was when they opted to side with a faction Mugabe did not support — that of Mnangagwa.
Previously, the Sibanda administration supported Mujuru and Mugabe ordered fresh elections to select a new executive that ushered in Mutsvangwa. The incumbent has sided with Mnangagwa and Mugabe responded by firing him from Cabinet.
Mutambara said there was no way war veterans — who have chosen to be part of Zanu PF succession wars would be sparred by the infighting — saying their relationship with their patron could have been smart had they stayed out of Zanu PF factionalism.
Mutsvangwa, however, says the antagonism with Zanu PF was authored by Grace and her G40 faction.
"Before G40 war veterans and the party shared identical ideology and common world outlook," he said.
"The party has been hijacked by reactionaries, counter revolutionaries, self-serving arrivistes, downright spies and all types of lumpen elements.
"All this is because of G40. They lack the courage to form their own party. So they aspire to embed themselves in the glorious traditions and popularity engendered by the war veterans in epic struggle."
War vets demands "The issue of the perennial and long overlooked welfare of our members for almost four decades into independence is too vital for the late maturity childish tantrums of an ill-fated splittist misadventure," Mutsvangwa said last month.
However, Rusero said Mutsvangwa's statement reflected a crisis that did not manifest today in Zanu PF or as a result of the G-40 insurgence. He said the crisis goes back to the liberation struggle when a group of war vets called Vashandi conspired against their leaders for enjoying at their expense.
"So 36 years after independence, war vets still have a feeling of being betrayed and being used too. It is a fact that the group was a critical catalyst that catapulted Mugabe to the throne with the turning of the new millennium," he said.
He added that the chaotic land reform programme that brought Mugabe back on his feet in the face of MDC challenge was spearheaded by the war veterans.
He said poverty was one factor that was jolting war vets to action against Zanu PF.
"Mugabe has failed to strike a balance between interests of politicians and those of war vets," Rusero said.
Mutambara said Mugabe has continued to view the comrades as fighters to be deployed to do its dirty work while politicians enjoy.