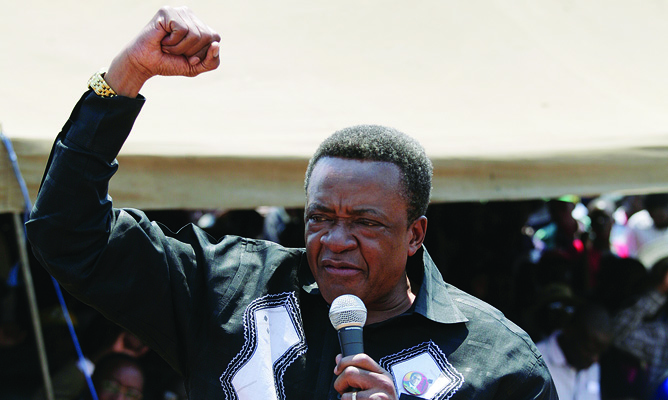 SUSPENDED former Zanu PF politburo members Nicholas Goche and Webster Shamu have reportedly filed letters of appeal to the party's central committee seeking to have their suspensions lifted, NewsDay has learnt. BY EVERSON MUSHAVA
Goche and Shamu were suspended from Zanu PF last year, together with several other top-ranking officials including Francis Nhema, Flora Buka and Olivia Muchena, on allegations of conniving with former Vice-President Joice Mujuru in an alleged plot to oust President Robert Mugabe.
"Goche and Shamu have filed appeals with the central committee against their suspensions," an impeccable Zanu PF source said yesterday.
However, both Goche and Shamu could not be reached for comment.
Zanu PF, two weeks ago, said it was opening the floor for all suspended members to challenge the party's decision.
Party spokesperson Simon Khaya Moyo, however, said the appeal window was only open for members with no links to Mujuru's alleged ouster plot.
The majority of party members who were kicked out of Zanu PF on allegations of working in cahoots with Mujuru have not been given the right of appeal.
Meanwhile, Kadoma businessman Jimaya Muduvuri is alleged to have told party members in Masvingo on Monday that he had been sent by the Zanu PF leadership to debunk reports that Vice-President Emmerson Mnangagwa was leading a faction angling to succeed President Robert Mugabe.
Yesterday, he admitted addressing the Masvingo meeting, but refused to give further details, saying he would do so later. "I will only comment on the issue at a later stage," Muduvuri said. But sources who attended the meeting said Muduvuri claimed that he had been directed by the President's Office to urge party members to shun factionalism.
Zanu PF is torn between two factions — Team Lacoste, reportedly sympathetic to Mnangagwa, and G40, a faction of Young Turks believed to be headed by First Lady Grace Mugabe.
"He [Muduvuri] claimed he had been sent by the President after he met with VP Mnangagwa. He was basically saying there was no need for people to say they all belong to Zanu PF and say they belong to Team Lacoste or G40," a Zanu PF official said.
Muduvuri is believed to be a strong ally of Grace. He was reportedly in the company of Zanu PF secretary for youth affairs Pupurai Togarepi. But the latter distanced himself from the alleged meeting.
Zanu PF chief whip Lovemore Matuke said he briefly attended the meeting, and could not confirm remarks attributed to Muduvuri.