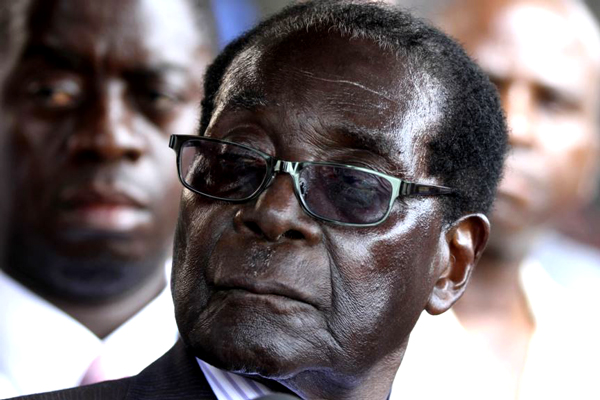 President Robert Mugabe yesterday admitted Zanu PF was no longer intact and called upon members to be united and do self-introspection of their activities in order to restore the ruling party's former glory.
By Everson Mushava
Officially opening the 101st central committee meeting at the Zanu PF headquarters in Harare, Mugabe said lack of discipline and greed for power were fuelling messy factional fights that were threatening to destroy the party.
"Our party is no longer intact. The people at the grassroots, yes, they are united, but at the top, they are not.
Look at what we are now, compare what we are now and what we used to be. Unity has always remained a key issue in the party," he said.
"Let's have an introspection, let's look into ourselves. Members no longer trust each other, they are plotting against each other and wishing the downfall of each other instead of directing our energies toward building the party."
Zanu PF is currently locked in bitter factional fights between the Vice-President Emmerson Mnangagwa-linked Team Lacoste faction and G40, a group of Young Turks that reportedly enjoys the support of Mugabe and First Lady Grace Mugabe.
This has seen endless squabbles that have triggered a fresh wave of suspensions currently flooding the party's national disciplinary committee.
A rather subdued-looking Mugabe implored party members to stop committing all their energies on factional fighting. He castigated the abuse of youths to fight for bigwigs' personal agendas. Mugabe said youths looked up to the elders for direction.
"We are ourselves models to the youth. We should ask ourselves: Are we doing the right thing in the party? Our youth will learn from us," he said.
Mugabe lamented "the abuse of the Internet to attack each other" in the party.
The veteran leader said party programmes should address people's social issues such as housing and land and castigated people still having a soft spot for whites.
"So when we say to the outside world we have a policy of indigenisation, and they react by saying we are driving out investors, we should not be worried. We know what we are doing and what we suffered for. We did not suffer to advantage the whites who enslaved us," he said.
The controversial indigenisation programme had been a major cause of confrontation between Finance minister Patrick Chinamasa and Indigenisation minister Patrick Zhuwao, with the former calling for a watered down policy to attract investment.
But Mugabe yesterday said the country would not back down on the policy, no matter the effects as Zimbabweans fought the whites so that they could be masters of their own resources.