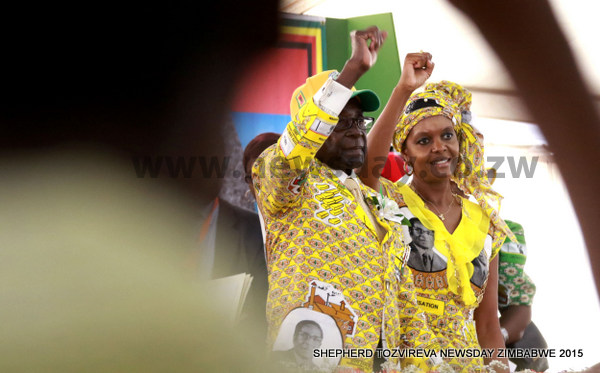 A POLICE officer, who allegedly said President Robert Mugabe was "too old to rule and married to a prostitute", was actually canvassing support for former Vice-President Joice Mujuru's Zimbabwe People First party, the court heard yesterday.
by PAIDAMOYO MUZULU
Thompson Joseph Mloyi (44) is being charged with insulting the President or Office of the President by allegedly uttering the words denigrating Mugabe and his wife, First Lady Grace Mugabe, while at Cranborne Police Station on March 5.
Mloyi's trial opened yesterday just after magistrate, Tendai Mahwe threw out his application for referral to the Constitutional Court.
Mloyi is attached to the Police Reaction Group based at Cranborne Police Station.
Prosecutor Francisca Mukumbiri opened her case by calling Stanley Makumbe as the first witness.
In his evidence-in-chief, Makumbe said after Mloyi was shoved out of the police station, where he allegedly insulted Mugabe, he then went out and openly campaigned for Mujuru.
"As we left the police station, the accused (Mloyi), who was walking ahead of us, started uttering the words: 'Forward with Mai Mujuru, forward with People First'," Makumbe said.
"When he uttered the words, I was in the company of Sergeant Muchenjero, who at the time tried to restrain him, but to no avail."
However, Mloyi, through his lawyer David Hofisi, denied the charges and in his defence said he would challenge the State to prove the words were indeed uttered.
Hofisi said his client was at the time simply discussing political developments in the country after the formal launching of the Zimbabwe People First party in the capital by its leader, Mujuru.
Under cross-examination, Makumbe denied they were discussing political developments, but said Mloyi uttered the words "out of the blue" and they tried to shove him out.
Earlier on, magistrate Mahwe dismissed Hofisi's application that the charges had been brought by Director of Public Prosecutions Florence Ziyambi instead of Prosecutor-General Johannes Tomana.
But Mukumbiri argued that Ziyambi was also qualified to sign the papers, an argument upheld by the court. The trial continues today.