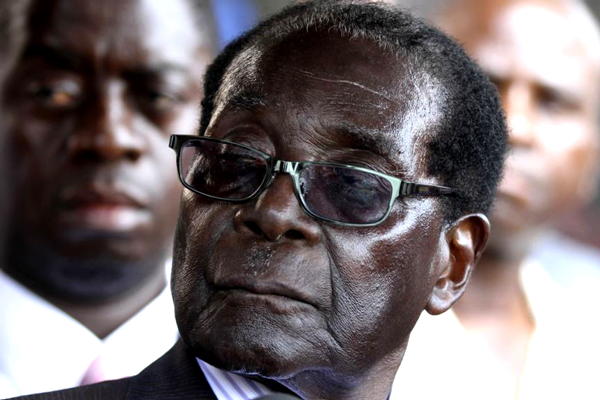 PRESIDENT Robert Mugabe has reportedly pressed the panic button in the wake of howls of disapproval from veterans of the country's liberation struggle and a growing schism between the ex-fighters and the Zanu PF elite.
By Elias Mambo/RICHARD CHIDZA/XOLISANI NCUBE
Mugabe had initially appeared to have discarded the war veterans, led by Christopher Mutsvangwa, when he publicly accused him of disorderly conduct two weeks ago, but made a volte-face at the weekend when he sought to reconnect with ex-combatants and former detainees at his 92nd birthday bash held in Masvingo.
This came amid reports that his new nemesis and former deputy, Joice Mujuru – who now leads the opposition Zimbabwe People First – was "fishing in the same pond for support".
PRESIDENT Robert Mugabe[/Caption]
Mujuru at the weekend reportedly addressed more than 100 veterans of the struggle, who pledged to dump the "violent Zanu PF" and rally behind her ahead of the 2018 elections.
Organisers of Mugabe's birthday bash paraded close to 30 ex-freedom fighters, who shared prison cells with Mugabe in detention and restriction camps around the country in the 1960s and 1970s.
"So, together now we must find our way (out of) the problems that we face together," the President said.
"We have a lot to learn from the war veterans because they are more experienced. But I don't want them to be bullied."
The reconnection came a fortnight after Mutsvangwa's group fought running battles with police over an aborted meeting which was aimed at discussing their welfare.
Mugabe later apologised to the war veterans and pledged to make amends, but went on to accuse Mutsvangwa of organising the meeting without consulting him as the war veterans patron or any one of the security ministers.
It, however, later emerged the three security ministers had been briefed about the meeting.
Yesterday, war veterans' secretary-general Victor Matemadanda said they had been given the green light to hold their meeting, which was aborted a fortnight ago. He said the meeting would be held at the City Sports Centre on Thursday.
Matemadanda said the agenda of the meeting would include the need to incorporate war veterans and the military as special advisers to the Zanu PF politburo to "re-direct the party back to its original ideology".
"We would want the party to have a military commission of some sort that will be advising the party leadership on decisions that they make. This is one of the things that we are going to be discussing at the meeting," he said.
"It's unfortunate that when we wanted to discuss some of these things, some among us thought we were doing something diabolic or they were afraid of their diabolic activities. We want to discuss how we can rejuvenate the party and take it back to its ethos of the liberation struggle.
"It is allowed in Zanu PF to criticise each other constructively and come up with solutions. It is also Zanu PF policy that, among us, our contradictions should be managed to a level that they don't create enmity among comrades. But what we (are) saying today is just the opposite and this is what we want comrades to come and discuss freely and recommend to the party on what should be done freely."
Meanwhile, on Saturday, some of Mugabe's fellow detainees could not contain their emotions when they reconnected with him after more than four decades. Mugabe was arrested in 1964 and spent the next 10 years in various detention camps and prisons such as Sikombela (Gokwe), Khami (Bulawayo) and Gonakudzingwa (Gonarezhou National Park).
A surprised Mugabe hugged and greeted his ex-prison mates amid slogans from war veterans saluting the President.
In an interview yesterday, the former inmates' co-ordinator, Raymond Mazorodze, said he was already in Harare to strengthen the reunification with Mugabe.
"I am at the Zanu PF headquarters to deal with that issue and I cannot divulge what we are discussing," he said.