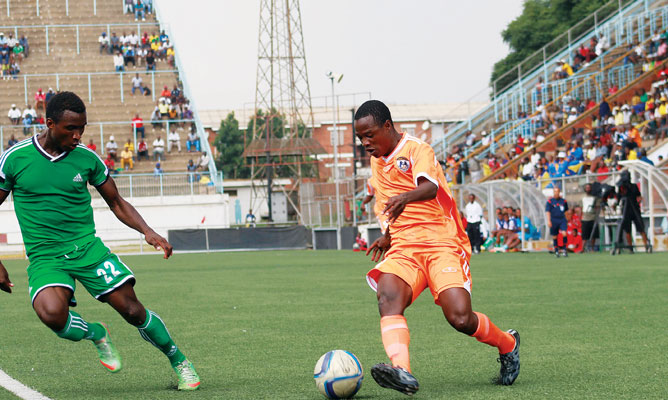 HARARE City Council has come under attack over its decision to send a bloated delegation to Madagascar for their Caf Confederation Cup preliminary round return leg match against AS Adema next week, with residents describing the move as a waste of ratepayers' money.
SPORTS REPORTER
An official list from the council shows plans to send 43 people – including 18 players, although a source yesterday said the number could even be bigger than stated – to the Indian Ocean island.
The team is expected to leave on Tuesday and will be in Antananarivo for five days.
Caf recommends a maximum of 30 delegates, although well-resourced teams can travel with larger squads.
With a return ticket to Madagascar averaging $1 250 per person, the council will spend $54 000 on airfares alone and the whole trip is likely to gobble more than $150 000 of ratepayers money, if accommodation, allowances and other costs are factored in.
Residents' associations yesterday criticised the move, describing it as insensitive.
"The City of Harare has misplaced priorities. Obviously, the motivation there is to get allowances and very little to do with supporting soccer," Harare Residents Trust director, Precious Shumba said. "Only those who are supposed to go in terms of Caf regulations should go. There is no justification or explanation to exceed the numbers allowed by Caf. There is rampant abuse of financial and material resources at Town House.
"Municipal services continue to deteriorate. Refuse collection has become more inconsistent and they have failed to explain what is happening to residents. There is a typhoid outbreak, which is growing each day and the council claims it does not have the resources to deal with it, yet they have money to transport unnecessary individuals to a soccer match out of the country, each entitled to council allowances."
Combined Harare Residents' Association (CHRA) yesterday petitioned Harare mayor Bernard Manyenyeni demanding that he orders the club to downside its travelling party.
"Issue a directive to the directors and co-ordinators of Harare City Football to cut their delegation from 43 people to 25, which should account for a 42% reduction in total combined individual costs associated with this trip," CHRA chairman, Simbarashe Moyo said in a petition yesterday.
"As residents, we are worried when such things happen at a time when they are saying their coffers are dry. Those resources could have been channeled somewhere beneficial to residents, not to a few individuals," Moyo said.
On their list Harare City have three medical personnel, a doctor, a physiotherapist and another listed as a medic. Usually, teams travel with just a doctor and physiotherapist.
Harare City will send two goalkeepers' coaches for their goalies, Maxwell Nyamupanedengu and Tafadzwa Dube.
The team will go to AS Adema needing at least a draw to progress to the first round after the first leg ended 3-2 in their favour.
The team is one of the highest paying clubs in the country, with players earning a monthly salary of at least $1 000, while their winning bonuses are pegged at $500 per match.
Harare City officials list Head of delegation (from Zifa (TBA)
Officials: Christopher Mbanga (Deputy mayor), Panganai Charumbira (Information committee chairman), Resias Masunda (councillor), Mathew Marara (club secretary-general), Tendai Kwenda (club treasurer), Hope Chizuzu (media officer), Everisto Mukumba (administrator),
Media: One print journalist and two from the electronic media
Technical department: Taurai Mangwiro (coach), Mkhuphali Masuku, Mike Madzivanyika (assistants), Richard Tswatswa, Witness Munkuli (goalkeepers' coaches), Pardon Chivasa (welfare manager), Kudzai Masunda (team doctor), Farai Muguwe (physiotherapist), Lastword Siniwan (medic), Kuda Murambiwa (kit manager)