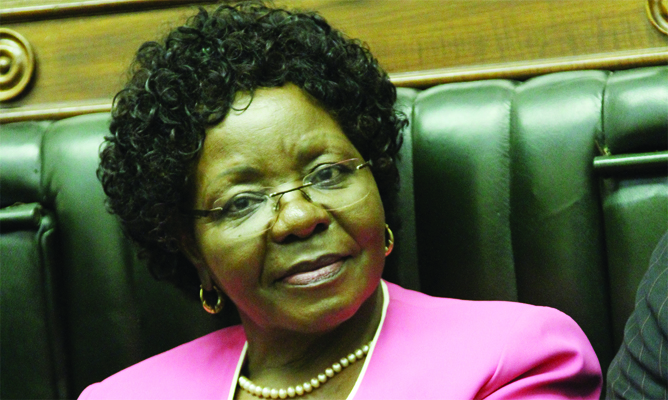 SMALL-to-Medium Enterprises (SMEs) minister Sithembiso Nyoni has blasted the Local Government ministry, headed by Saviour Kasukuwere, for encroaching into her portfolio by announcing a ban on housing co-operatives.
BY BLESSED MHLANGA
Nyoni told journalists in the capital yesterday that the so-called ban recently announced by Local Government deputy minister Christopher Chingosho was "null and void", adding housing co-operatives remained legal entities.
"I am in charge of co-operatives," she said.
Sithembiso Nyoni
"I administer the Act and, at the end of the day, I am the one in charge and if I do not pronounce a change that comes either through Parliament or Government Gazette, any utterances on that matter are null and void."
Nyoni's remarks further exposed the inherent policy discord in the Zanu PF government.
Chingosho announced in January that his ministry had banned all housing co-operatives and was now using Udcorp to service land for housing development in a bid to protect desperate homeseekers from being swindled of their hard-earned cash in shady land deals.
SMEs ministry secretary Evelyn Ndlovu said Nyoni's statements cleared the air on policy confusion and called on all government ministries to seek her consent before announcing policies that affected the sector.
"You are indeed our beacon of light in the ministry and you have made it clear that policy cannot just be discussed in public or through the media like that, but it's relayed to the public," she said.
"All institutions or government departments have to come through you on the policy of co-operatives for guidance."
Nyoni made the remarks while launching the review consultative process of the Informal Sector Formalisation and Co-operative Policy of 2005.
She said the consultative process was meant to ensure that government creates legislation that will be relevant for SMEs and co-operatives.
The minister said SMEs were integral to the economy because they had created massive employment and, therefore, fomalisation in this unit would transform lives.
"The Finscope MSME Survey Zimbabwe 2012 reported that there was an estimated total of 5,7 million jobs created within the MSME sector and there are 2,8 million small business owners, so formalisation can be viewed as the transition from the informal to the formal sector," she said.