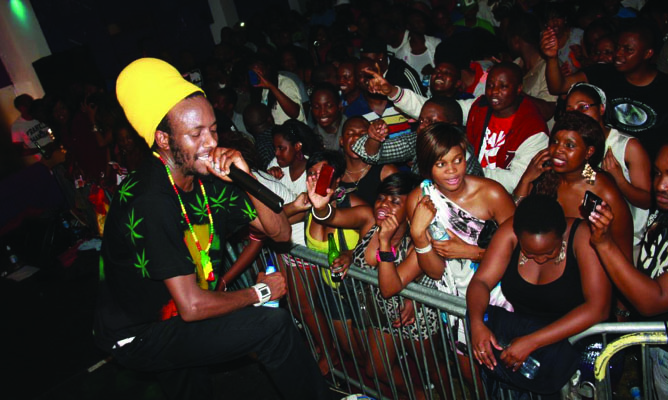 THE National Arts Council of Zimbabwe (Nacz) has announced 106 nominees for the 15th edition of the National Arts Merit Awards (Nama) scheduled for February 13 at the 7 Arts Theatre in Avondale, Harare.
BY ARTS REPORTER
Among the nominees was NewsDay Features and Lifestyle Editor, Phillip Chidavaenzi, whose second novel, The Ties that Bind, was nominated in Outstanding Fiction category, alongside Dzinonyandura (edited by Rabison Shumba), Textures by John Eppel and Togara Muzanenhamo and The Book of Memory by Petina Gappah.
Chidavaenzi first won a Nama award in 2007 for his debut novel, The Haunted Trail, in the Outstanding First Creative Published Work category.
Nacz communications and marketing officer, Cathrine Mthombeni said the council appointed a team of monitors, who tracked excelling artistes throughout the year and then submitted reports, which were used by adjudicators together with the submitted entries.
"A panel of independent adjudicators, guided by a set selection criteria, was appointed to preside over all the submissions. Nominees and winners were selected for each award category," she said.
Mthombeni said another team of adjudicators appointed after the submission deadline acknowledged the increase in the submissions, which they commended as very encouraging.
LITERARY ARTS AWARDS
Outstanding First Creative Published Works Shower of Poetic Vistas by Shumirai Nhanhanga (Zimbabwe Women Writers) Chaotic by Samantha Chihuri (Ess Tee Publications) Who will Feed by Tshengina Ndlovu (Multi-Media Box)
Outstanding Children's Book
Tsuro naGudo: Misi yese Haifanani by Daniel Mutendi and Wilbur Kandiero (DanTs Media) The Mystery of the Waterfalls Thief by Tatenda C Munyuki (Darling Kind)
Outstanding Fiction
Dzinonyandura by Rabson Shumba (263 Nhetembo) Textures by John Eppel and Togara Muzanenhamo (AmaBooks) Ties that Bind by Phillip Chidavaenzi (New Heritage Press) The Book of Memory by Petina Gappah (Faber and Faber)
DANCE AWARDS
Outstanding Male Dancer Sean Mambwere (M & M Dance Factory) Mehluli Dube (Umkhathi Theatre Works) Mclntosh Jerahuni (Tumbuka Dance Company)
Outstanding Female Dancer
Timikha Fisher (Breakthrough Productions) Chaleen Chimara (Dance Trust of Zimbabwe) Sibonisiwe Sithole (IYASA) Outstanding Dance Group Tumbuka Dance Company IYASA M & M Dance Factory
Outstanding Choreographer
Mclntosh Jerahuni (Tumbuka Dance Company) Sean Mambwere (M & M Dance Factory) Maylene Chenjerayi (Tumbuka Dance Company) Stanley Wasini (Tumbuka Dance Company)
VISUAL ARTS AWARDS
Outstanding 2 Dimensional Work Kuna baba Kune dzimba Dzakawanda by Anthony Bumhira Shadows from the Past by Boarding Dzinotizei Tears of a Woman by Mavis Tauzen
Outstanding 3 Dimensional Work
Vhukonani by Israel Israel Happy Elephant by Farai T. Tandi Mother's Day by Rufaro Murenza
Outstanding Mix Media Work
The Dog and the Bone by Johnson Zuze Kusina mai hakuendwe (Xenophobia Pain) by Forbes Mushipe In my Grandmother's Jacket by Israel Israel
Outstanding Exhibition
Agostinho Neto Curated by Raphael Chikukwa at National Gallery of Zimbabwe Between Dreams and Realities Curated by Jimmy Saruchera at Koa-Vah Gallery Mutations and Permutations: A Situationist Proposal Curated by Raphael Chikukwa at NGZ
SPOKEN WORD AWARDS
Outstanding Poet Philani Nyoni Barbra Anderson Freedom Nyamubaya
Outstanding Comedian
Sam Farai Monro aka Comrade Fasto Victor T Mpofu (Doc Vikela) Michael Kudakwashe
THEATRE AWARDS
Outstanding Actress
Nyaradzo Nhongonhema (Chimbwido the Girl of War) Priviledge Mutendera (Where There is a Will) Musa Sibanda (The Taking) Chiedza Mlingo (Ananias and Sapphira)
Outstanding Actor
Gift Chakuvinga (The Taking) Tafadzwa Hananda (Chimbwido the Girl of War)
Outstanding Theatrical Production
The Taking by Homegrown Arts Ananias and Sapphira by Charles Munganasa Chimbwido the Girl of War by Stanley Mukuwe
Outstanding Director
Memory Kumbota for The Taking Charles Munganisa for Ananias and Sapphira Stanley Makuwe for Chimbwido the Girl of War
Film and Television Awards
Outstanding Actor
Anthony Tongani in Ngozi Nick Zemura in My Lady Tinashe Nhukarume in Through the Night 2
Outstanding Actress
Paula Ndlovu in Journey Home Chipo Mbizvo in Mwanasikana Fortune Perezu in My Lady
Outstanding Music Video
Breaking Through by Kudzai Chikomo ft. Admire Kudita Jerusarema by Willard 'Slimaz' Makombedze ft. Jah Prayzah Huyai Tinamate by Charles Mawungwa ft. Hope Masike Ndomira Pamuri by Andy "Cutta" Sobhuza ft. Janet Manyowa
Outstanding Screen Production — Full Length Film
My Lady directed by Michael Zemura Mwanasikana directed by Beauty Nakai Tsuro Far From Yesterday directed by Blessing Chinanga et al.
Outstanding Screen Production — Short Film
The Christening directed by Tswatswa Mutasa Jane the Ghost directed by Learnmore Sibanda
Outstanding Screen Production (TV)
Tonight with Zororo directed by Nqobizitha Mlilo and Zororo Makamba Wenera directed by Eddie Ndlovu Zambezi News directed by Kevin Hansen The Maid directed by Shupai Kamunyaru
MEDIA AWARDS Outstanding Journalist Print
Beaven Tapureta — The Herald Vasco Chaya — Daily News Mbongeni Msimanga — Sunday News Tony Mhonda — The Patriot
Outstanding Journalist TV
Sifiso Mpofu— ZBC Josephine Mugiyo — ZBC Andrew Neshamba — ZBC
Outstanding Journalist Radio
Sifiso Mpofu — ZBC Josephine Mugiyo — ZBC Tichaona Meza — ZBC
Outstanding Online
Zimbojam Writers International Network (WIN) Panorama Three Men on a Boat
MUSIC AWARDS Outstanding Female Musician
Hope Masike Selmor Mtukudzi Tariro 'negitare' Chaniwa Agatha Murudzwa
Outstanding Male Musician
Wallace Chirimuko aka Winky D Mathias Mhere Mukudzei Mukombe aka Jah Prayzah Kelvin Kusikwenyu aka Killer T
Outstanding Album
Gafa Life By Wallace Chirimuko aka Winky D Jerusarema by Mukudzei Mukombe aka Jah Prayzah Glory to Glory by Mathias Mhere Ngoma Ndaimba by Kelvin Kusikwenyu aka Killer T
Outstanding Song
Ebenezer from Ebenezer — Tirimunyasha by Rev. Togarepi Chivaviro Eriza from Jerusarema by Mukudzei Mukombe aka Jah Prayzah Tirikuda Kumbofarawo by Kelvin Kusikwenyu aka Killer T Disappear from Gafa Life by Wallace Chirimuko aka Winky D
SPECIAL AWARD
Outstanding Promoter
Danchip Investments t/a Legends Sports Bar X-MO SQUAD Chipaz Promotions Simmad Entertainment