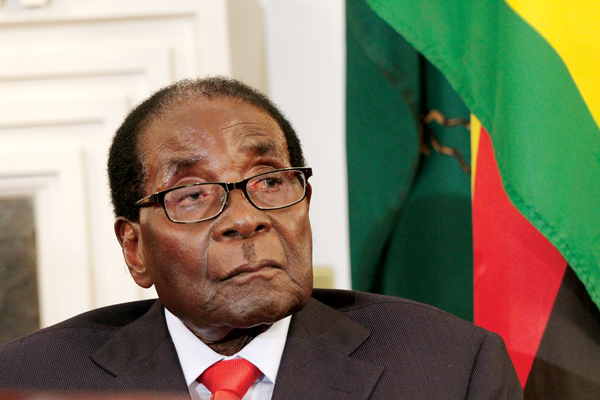 PRESIDENT Robert Mugabe rejected advice to conduct a fresh poll following the bloody 2008 presidential run-off election that left hundreds of opposition activists dead, missing and displaced, former South African President Thabo Mbeki has said.
BY RICHARD CHIDZA
In a message posted on his Facebook page yesterday, Mbeki confirmed that the run-off election held in Zimbabwe in July 2008 was marred by violence that "made it impossible for the people of Zimbabwe to freely exercise their right to choose their President".
"I, therefore, met President Mugabe in Bulawayo to propose that the election should be called off and conducted afresh in conditions of the total absence of any violence. President Mugabe did not accept our suggestion, arguing that the action we were proposing would be in violation of the Constitution," he said.
Former South African President Thabo Mbeki
MDC-T leader Morgan Tsvangirai won the first round of voting in March 2008, but failed to garner an outright majority vote. Mugabe later won the run-off election in July after Tsvangirai had pulled out of the race, citing persecution of his supporters.
MDC-T spokesperson, Obert Gutu yesterday said Mbeki's "advice to Mugabe" was meant to create a "soft landing" for the Zimbabwe ruler.
"President Thabo Mbeki, just like all other leaders within the Sadc region, knew that Mugabe would lose a peaceful, free and fair Presidential election run-off and, as such, he somehow expected Mugabe to step down after being defeated. Unbeknown to Mbeki and his close advisers, Mugabe had other ideas. The argument that it would be unconstitutional to run an election, as suggested by Mbeki was, of course, puerile, frivolous and vexatious," he said.
Academic and political analyst, Ibbo Mandaza said regarding his policy on Zimbabwe, Mbeki's legacy was in tatters.
"He is trying to clean up his image, but when it comes to Zimbabwe, it's a no-brainer. His legacy is in tatters. He still has room to explain why it seemed he was at odds with his own Cabinet regarding the election outcome. Mbeki must also explain why he refused to make public the report by the military generals after a mission to Zimbabwe," he said.
Mandaza said the Government of National Unity, which was formed in 2009 after Mbeki's mediation, was meant to be a face saver for Mugabe.
"Mbeki must explain why he was advising Mugabe to call for a fresh poll. Was it because Mugabe might have acknowledged to him and [former Nigerian President Olusegun] Obasanjo that he had lost the March election outright?
"Mbeki should also explain why he did not advise the African Union that the Zimbabwean leader could not have been legitimate despite having been inaugurated even before the run-off results had been announced," the academic said.
Another social and political analyst, Takura Zhangazha, agreed.
"His (Mbeki's) legacy has been questioned in many quarters and I think it is a way of trying to clean it as well as his image and the consolidation thereof," he said.
Mbeki said South Africa has consistently "defended the right of the people of Zimbabwe to determine their destiny, including deciding on who should govern the country".
"Consciously we took the position that democratic South Africa should, at all costs, avoid acting as a new home-grown African imperial power, which would have given itself the right unilaterally to determine the destiny of the peoples of Africa," the former South African leader said.
Political analyst, Maxwell Saungweme said Mugabe survived because Mbeki and others in the region supported him.
"Mbeki might have persuaded Mugabe to run a peaceful poll, but his diplomacy was not supported by commensurate measures that would ensure compliance and that would practically dissuade Mugabe from embarking on an undemocratic poll," he said. "He needed to match his persuasion with clear deterrent measures, which did not happen."
Zanu PF spokesperson Simon Khaya Moyo was not available for comment.