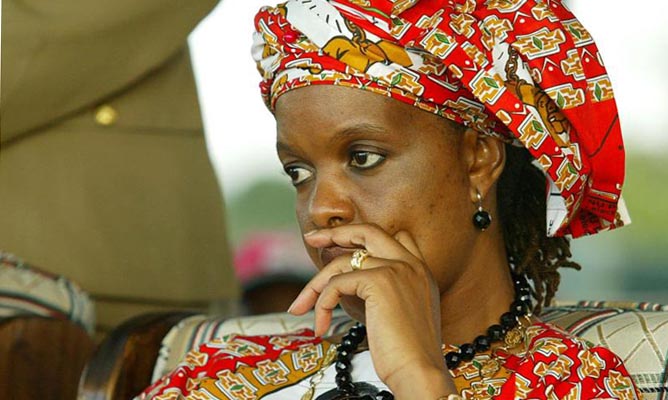 ZIMBABWE's political catfight could turn into an explosive and untenable situation if left unchecked, especially in the face of insinuations about military involvement in plots to "kill" President Robert Mugabe's youngest son Bellarmine Chatunga, analysts and opposition parties have said.
BY RICHARD CHIDZA
First Lady Grace claimed at a rally in Chiweshe last Friday that sections of the army and a Zanu PF faction allegedly led by Vice-President Emmerson Mnangagwa were plotting to kill Chatunga and that they were responsible for the attempted bombing of her family's dairy plant in Mazowe last month.
Political scientist Eldred Masunungure said Grace was treading on "dangerous ground".
First Lady Grace Mugabe
"The country's politics has taken a very dangerous turn, whose effects could be and have always been too ghastly to contemplate. The utterances by the First Lady introduce an extremely dangerous dimension to the political fight for power and there is real cause for panic and deep worry among citizens," he said.
Masunungure said Mugabe should be worried as were the rest of Zimbabweans, but the veteran Zanu PF leader must "do something".
"Our hope is that the President and the Defence minister (Sydney Sekeramayi) will do everything they can to try and pacify the country's securocrats in the face of such statements. If the idea is to get rid of so-called rogue elements both in the party and army, it could boomerang and destabilise the country's security services. The more such reckless statements are made, the more danger the country descends into," Masunungure said.
National Peace Trust executive director Trust Mamombe, while indicating the threat of bombing on the First Family's business should be a cause for concern, said utterances attributed to "the First Lady have largely served to cause alarm and concern in our relatively peaceful nation".
"Accusations of attempted murder and banditry directed at the national army and coming from the First Lady cannot be taken for granted. We urge all Zimbabweans to exercise restraint and caution in their intentions and utterances," Mamombe said.
"The latest political events have left our stockpiles of peace at the lowest of levels post-independence. The National Peace Trust remains concerned and calls for enriched dialogue between inter and intra-party protagonists. Peace and stability remain a key cornerstone for socio-economic progress which remains a minimum expectation for all Zimbabweans."
A former State bureaucrat, who spoke on condition of anonymity, warned that a fundamental shift in "the structure of the State is imminent".
"When [Higher and Tertiary Education minister] Jonathan Moyo made the reference to abuse of military barracks, it was the first salvo on (Zimbabwe Defence Forces Commander General Constantine) Chiwenga and (Presidential Guard Commander Brigadier General Anselem) Sanyatwe and that they are, somehow, involved in nefarious activities connected to the power struggles within Zanu PF. When you have a party/State conflation as we do, instability in the party means a split in the State and ultimately military," he said.
"This is a slippery slope, anything can happen and not even those who claim to be in charge will be able to control the ramifications of what is happening".
He added that the arrest of Prosecutor-General Johannes Tomana was part of a bigger and more vicious struggle for State control that could result in a reshuffle in the country's military establishment, but warned of a possible "reaction".
Tomana was arrested for allegedly cutting a deal with suspects in the threat to bomb Mugabe's Gushungo dairy plant.
Zanu PF national political commissar Saviour Kasukuwere upped the ante when, at the same Chiweshe rally on Friday, he claimed the Mnangagwa faction was mobilising funds to bail out the "Mugabe bombers".