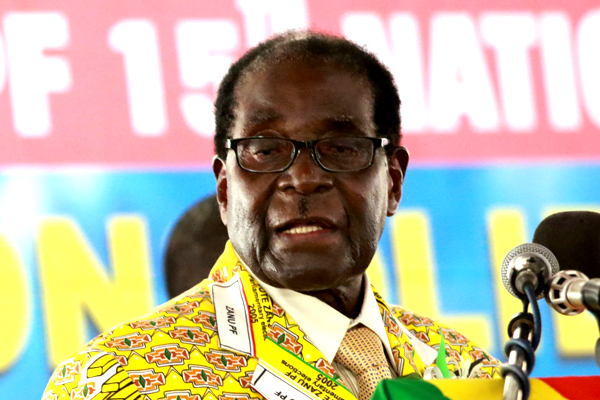 The African Union (AU) has remained quiet about the political problems facing Zimbabwe because of the respect given to President Robert Mugabe, a peace and security analyst has said.
BY TATIRA ZWINOIRA In Addis Ababa, Ethiopia
Speaking to NewsDay on the sidelines of the ongoing AU Summit in Addis Ababa, Institute for Security Studies researcher Yann Bedsigui said Mugabe, in power since 1980, still commanded a lot of respect on the continent.
"President Mugabe has some sort of aura. The way he is perceived by his counterparts is very different, you know him being the big brother who fought against the colonialists who won, so it is tricky," Bedsigui said.
"It is very tricky because at the scale of the AU you have the African Charter of Democracy and Governance which states that heads of states should not manipulate constitutional texts to advance their personal interest."
Bedsigui said the AU did not have an explicit stance on the issue of succession and on third terms.
"A lot of heads of state know that this is an issue, but right now there are not a lot of countries that are mature enough at the continental level that we have to confront this issue," he said.
"The AU is an inter-continental organisation so the member states still have a lot of powers and, therefore, the position of AU Commission is limited and it is better to look at limitation rather than succession on presidential terms."
This comes on the backdrop of one of the hotly-contested issues from the summit concerning presidential term limits and its implications for continental peace and security.
Many leaders on the African continent are afraid to tackle the issue as it would mean an examination into governance practices in their own respective countries.
Foreign Affairs minister Simbarashe Mumbengegwi said an important milestone achieved in the area of peace and security was the successful conduct of the AMANI Africa II Field Training Exercises hosted by Sadc in South Africa last year.
"We are gratified to note that the field training exercises have shown the operational capability of the African Standby Force. This augurs well for the operationalisation of the African Standby Force and its rapid deployment capability. An important step has been made towards finding African solutions to African problems," he said.
Zimbabwe's tenure as chair of the AU comes to an end during this summit which has seen the adoption of the continent's development blueprint, agenda 2063 as well as the first 10-year plan of the document.