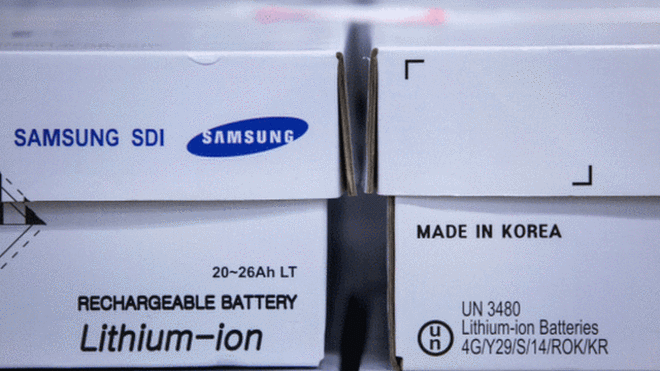 Human rights organisation Amnesty has accused Apple, Samsung and Sony, among others, of failing to do basic checks to ensure minerals used in their products are not mined by children.
BBC
In a report into cobalt mining in the Democratic Republic of the Congo, it found children as young as seven working in dangerous conditions. Cobalt is a a vital component of lithium-ion batteries.
The firms said that they had a zero tolerance policy towards child labour.
Women waiting near a mine in DRCImage copyrightGetty Images
The DRC produces at least 50% of the world's cobalt. Miners working in the area face long-term health problems and the risk of fatal accidents, according to Amnesty.
It claimed that at least 80 miners had died underground in southern DRC between September 2014 and December 2015.
It also collected the testimonies of children who allegedly work in the mines.
Paul, a 14-year-old orphan, started mining when he was 12 and told researchers: "I would spend 24 hours down in the tunnels. I arrived in the morning and would leave the following morning … I had to relieve myself down in the tunnels … My foster mother planned to send me to school, but my foster father was against it, he exploited me by making me work in the mine."
UNICEF estimates that there are approximately 40,000 children working in mines across southern DRC.
In response to the report, Apple said: "Underage labour is never tolerated in our supply chain and we are proud to have led the industry in pioneering new safeguards."
It said that it conducts rigorous audits on its supply chain and any supplier found hiring underage workers is forced to:
fund the worker's safe return home
finance the worker's education at a school chosen by the worker or his/her family
continue to pay the worker's wages
offer him or her a job when he or she reaches legal age to work.
On cobalt specifically it added: "We are currently evaluating dozens of different materials, including cobalt, in order to identify labour and environmental risks as well as opportunities for Apple to bring about effective, scalable and sustainable change."
Samsung said that it had a "zero tolerance policy" towards child labour and that, it too, conducted regular and rigorous audits of its supply chain.
"If a violation of child labour is found, contracts with suppliers who use child labour will be immediately terminated," it said.
Sony commented: "We are working with the suppliers to address issues related to human rights and labour conditions at the production sites, as well as in the procurement of minerals and other raw materials."