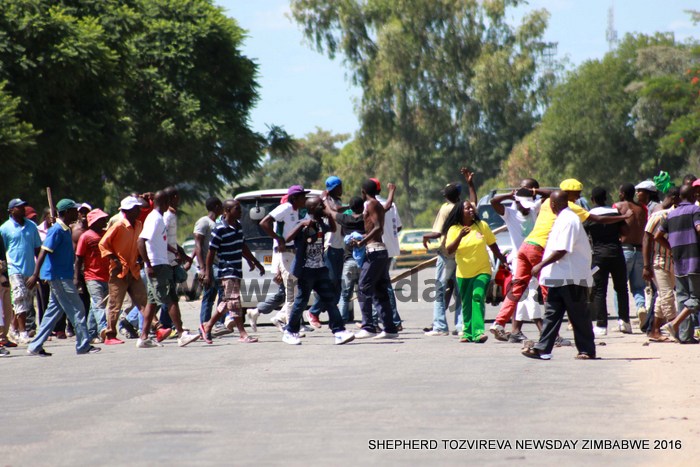 BLOODY clashes rocked Chitungwiza yesterday, when over 100 commuter omnibus crews stormed council offices in protest over what they deemed exorbitant permit fee charges, but were repelled by a group of suspected Zanu PF youths "hired" by the local authority.
BY MOSES MATENGA
Several people, including passersby, were injured, as the touts and ruling party youths pelted each other with stones and logs, while several vehicles had their windows smashed in the melee.
The clashes started when kombi crews parked their vehicles at the council headquarters and demanded an audience with the local authority's top management to register their displeasure over the $100 annual permit fees required for each kombi operating in Chitungwiza.
The crews were also protesting against harassment by municipal and Parkrite traffic officers.
Fearing for their lives, council bosses allegedly "hired" Zanu PF youths to drive away the kombi crews and protect the council offices. The Zanu youths, most of them visibly drunk, started chanting party slogans and advancing towards the touts, culminating in the bloody clashes.
Riot police later intervened and fired teargas canisters to restore order, as the youths combed nearby houses for some of the kombi crews where they had sought refuge.
The clashes occurred hardly 48 hours after rowdy kombi crews in Harare engaged in similar fights with municipal police, leaving several people, including passersby, injured.
Police spokesperson, Chief Superintendent Paul Nyathi said nine people were arrested, but dismissed reports that two people had died in the skirmishes.
"I can confirm nine people have been arrested. We are yet to get reports of injuries," he said.
"We don't have reports of any deaths. If anything, police will use the appropriate channels and not for people to rely on social media speculation."
Chitungwiza town clerk, George Makunde dismissed reports that they had hired Zanu PF youths to protect council officials.
"I was in a meeting in Harare. They are refusing to pay permits. We said $100 the whole year, but they are refusing. It's only $8 a month and you can't fail to raise $8 a month and expect to run a business in town," he said.
"In Harare, they pay $100 every three months. They want to politicise issues and there was no need to demonstrate after parking their kombis as a way of protesting. They had taken a business decision. We did not hire any Zanu PF youths, we don't hire people. They are not dull and they have a constituency to protect. If there is such a situation, they protect their interests. They can't let people cause commotion."
When NewsDay visited Chitungwiza in the morning, hundreds of commuters were stranded, as the remaining operators had pulled off the road and joined the melee. However, a few who remained operating were charging $2 for a distance that normally costs $1.
Several touts, who spoke to NewsDay, said they were not happy with Parkrite and council operations and the treatment they were getting from both Harare and Chitungwiza council officials.
"The commuter omnibus operators are against the charging of $100 for the permits. Council hired Zanu PF youths for protection and the clashes started after the youths were brought in," a council employee, who declined to be named, said.
Later in the day, riot police reinforced and went about indiscriminately assaulting residents and arresting anyone they suspected of being part of the morning clashes.The angry protesters then regrouped at Huruyadzo and Chigovanyika shopping centres in St Mary's, forcing vendors to pack their wares and leave their stalls.
The place resembled a war zone, as protesters burnt vehicle tyres, blocking vehicles, including police trucks, from leaving or entering the area.
Police then pounced on the protesters, indiscriminately beating anyone they came across, while some residents fought back, accusing the law enforcement agents of unnecessarily applying brute force.