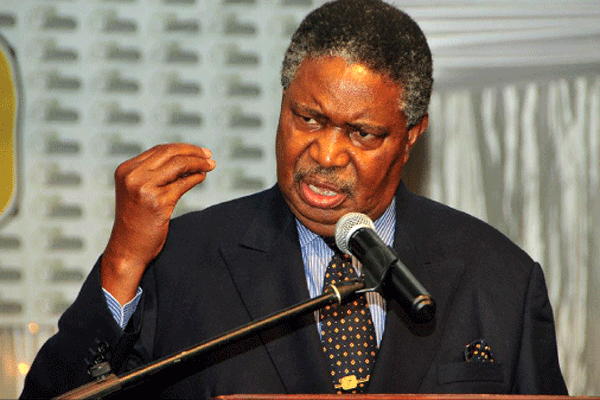 Finance minister Patrick Chinamasa presented a miserly budget last week, where the message was quite clear: The government has to prioritise on cost cutting and making savings, and we expect the Executive to take the lead in this regard.
It is then disconcerting to find that the government is not practising what they preach, or rather to put it in Chinamasa's terms, the "[government] is vacillating and is indicating left when it wants to turn right".
Zimbabweans should be appalled that at a time when the government does not have money for literally anything, Vice-President Phelekezela Mphoko continues to live lavishly at the Rainbow Towers, almost a year to his appointment, seemingly oblivious to what effect this has on taxpayers' money.
Mphoko's continued stay at the hotel is as unjustifiable as it is unwarranted.
How, with straight faces, the whole Executive can be blind to such excesses by one of their own is quite puzzling and mind-numbing.
The excuse that the government cannot find suitable accommodation in Harare for the Vice-President is balderdash at best and at worst insulting and all efforts must be made to ensure that Mphoko checks out as soon as possible.
Without being drawn into the discredited claims that a suitable house cannot be found, we want to remind the bureaucrats that the late Vice-Presidents Joshua Nkomo, Joseph Msika and John Nkomo — all with bigger personalities and profiles than Mphoko — all lived in Harare and we do not remember a single day that they complained of sub-standard accommodation.
When Mphoko was appointed, the question on everyone's lips was "Phelekezela who?" the clearest indication he was an unknown quantity, meaning he should be humble enough to accept any house he is given.
Most Zimbabweans have tightened their belts, some go for months unpaid, while a lot more have been retrenched, thanks to the government's ruinous economic policies, and nothing can be more contemptuous of their suffering than Mphoko's continued stay in a top hotel.
Chinamasa's budget clearly showed that the country was adopting austerity measures, yet how does he explain that Mphoko continues to stay in a hotel?
We implore Zanu PF and the government officials to walk the talk and not expect ordinary citizens to suffer while they live it up on taxpayers' funds.
One year, by any standards, is excessive and Mphoko should do the right thing and check out of that hotel.
Zimbabweans cannot afford to continue funding such profligacy, yet they are being forced to cut on basics.
In the same vein, we are disappointed that authorities resorted to strong-arm tactics and arrested activists demonstrating against Mphoko and the government's extravagancy.
As taxpayers feeling the pinch of a contracting economy and as Zimbabweans with a right to protest, we believe they were standing up for a just cause and speaking out on something that affects everybody in this country.
Government officials living in hotels, at a time the country is literally broke, is a good example of wasting money and all right-minded Zimbabweans should speak out about such excesses.
If the government is to reduce its wage bill and costs, we firmly believe it should start by eradicating such wastage.