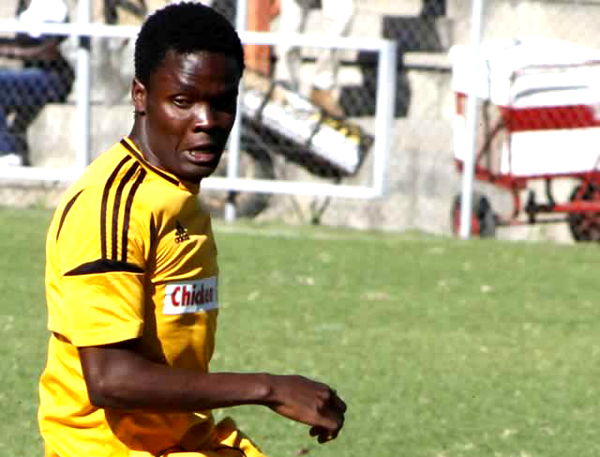 DANNY "Deco" Phiri was last night crowned Soccer Star of the Year at a function in Harare, to cap a fine season where he guided his Chicken Inn side to Castle Lager Premier Soccer League glory.
BY HENRY MHARA
The 26-year-old midfielder beat off strong competition from Dynamos' Ocean Mushure and Highlanders' Knox Mutizwa, who were named first and second runners- up respectively.
Chicken Inn coach Joey Antipas was named the Coach of the Season, reward for leading his team to their first-ever championship since promotion four years ago.
The team's goalkeeper, Elvis Chipezeze, got the Goalkeeper of the Season award, as the GameCocks dominated the podium.
Mutizwa missed on the top gong, but received a consolation with the Golden Boot Award after topping the scoring charts with 14 goals at the end of the season.
Dynamos goalkeeper Tatenda Mukuruva was named the Most Promising Player under the age of 20, to make up for his miss in the Goalkeeper of the Season award.
The winners were voted for by a panel of selectors, who included football writers, coaches and team captains.
The Referee of the Year, voted for by the Zimbabwe Soccer Referees' Association, is Nomore Musundire. His first and second runner-ups are Claris Simango and second is Salani Ncube, respectively.
The night, though, belonged to Phiri, who claimed the top prize mainly due to his consistency throughout the season, leading his team to the title.
Some of the contenders lacked consistency, while others were flashes in the pan, who only flattered to deceive.
While some of Phiri's teammates, particularly Clemence Matawu and Chipezeze, were also influential in the title charge to deserve a place on the 11 finalists list, the team's success owed much to their inspirational captain.
Phiri succeeds ZPC Kariba's Dennis Dauda, who together with his other 10 finalists from last season, failed to make the grade this year.
Chipezeze won the "Golden Glove" award, but statistically, it was Chapungu goalkeeper Roy Mazingi who merited it, as he conceded fewer goal on average, with a ratio of 0,54 after letting in 13 goals in 24 matches.
He, however, didn't even make it to the best 11 of the season.
Mukuruva had the second best ratio of 0,67 after he let in 14 goals in 21 matches, while Chipezeze was at 0,75 after conceding 21 goals in 28 matches.
Phiri pocketed $5 000 for his efforts, while Mushure and Mutizwa received $3 000 and $2 000 respectively. The latter received an additional $2 000 for winning the Golden Boot award.
Antipas received $3 500, while Mukuruva walked away with $2 000 to add to the $1 000 that all the finalists received.
Musundire received $2 000, while Simango and Ncube pocketed $1 500 and $1 000, respectively.
Harare City got the Most Disciplined Team of the Year award and were rewarded with a $10 000 cheque.
Soccer Star of the Year – Danny Phiri (Chicken Inn)
First Runner-up: Ocean Mushure (Dynamos)
Second Runner-up: Knox Mutizwa (Highlanders)
Goalkeeper of the Year: Elvis Chipezeze (Chicken Inn)
Most Promising Young Player: Tatenda Mukuruva (Dynamos)
Coach of the Year: Joey Antipas (Chicken Inn)
Referee of the Year: Nomore Musundire
Most Disciplined Team of the Year: Harare City
Castle Lager Soccer Stars of the Year finalists: Danny Phiri, Elvis Chipezeze, Edmore Chirambadare, Clemence Matawu (Chicken Inn), Ocean Mushure, Tatenda Mukuruva (Dynamos), Brian Muzondiwa (FC Platinum), Stephen Makatuka (Caps United), Knox Mutizwa (Highlanders), Raphael Manuvire (ZPC Kariba)