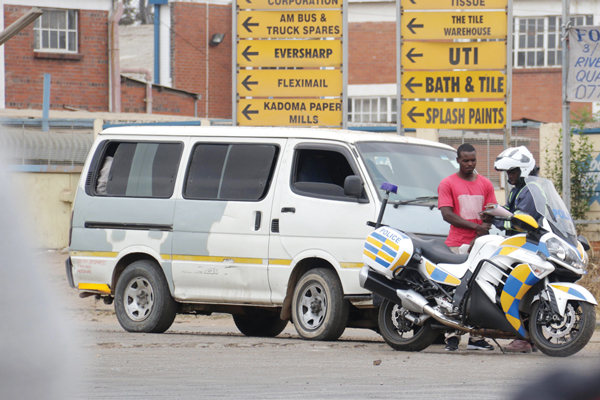 The unilateral increase of spot fines by Finance minister Patrick Chinamasa in his 2016 National Budget presentation last week could be null and void at law, unless the government moves to review the fines schedule or amend the law, legal experts have said.
BY BLESSED MHLANGA
Kwekwe-based lawyer, Caroline Mugabe said changing the fine structure without adjusting the entire fines schedule would be fatal at law.
"Police officers are currently allowed to assess fines up level three, which is up to $20. Anything above that going into level four of the fines schedule is supposed to be dealt with by a magistrate. This means in the absence of an upward review of all fine schedules, then the move will be illegal," she said.
Lawyer and MDC-T spokesperson, Obert Gutu agreed, saying the announcement would not stand constitutional scrutiny if relevant Acts of Parliament were not adjusted to accommodate the new fine structure.
"That pronouncement by Chinamasa cannot successfully withstand constitutional scrutiny. Spot fines cannot just be increased willy nilly without regard to the underlying legal requirement that state that the schedule under which the fine is imposed should not be ultra vires the provisions of the enabling Act of Parliament," he said.
"Put alternatively, any statutory instrument that has the effect of violating the provisions of the Act under which it is promulgated is void ab initio, that is from the very outset."
The new fines are expected to come into force on January 1 next year.
According to the Finance Act, 2009 (No 3 of 2009), with effect from April 23, 2009, $100 is a level four fine, which carries an alternative of 12 months' imprisonment and matters at that level should be dealt with by an ordinary magistrate, whose jurisdiction does not exceed level seven or two years in prison.
A magistrate, who could not be named for professional reasons, said the pronouncement had no effect until a Statutory Instrument was promulgated increasing fine of level three from $20 to $100.
"This means all level fines have to go up or they will amend the law so that police are empowered to assess fines up to level four, since they are the government," said the magistrate.
The ordinary sentencing powers of the various magistrates are provided for by section 50 of the Act. An ordinary magistrate is limited to imposing a prison term that does not exceed two years or a fine not exceeding level seven.
A senior magistrate may impose imprisonment for a period not exceeding four years or a fine not exceeding level nine, a provincial magistrate can impose up to five years' imprisonment or a fine that does not exceed level 10 and finally a regional magistrate's ordinary sentencing jurisdiction is imprisonment not exceeding 10 years or a fine not in excess of level 12.