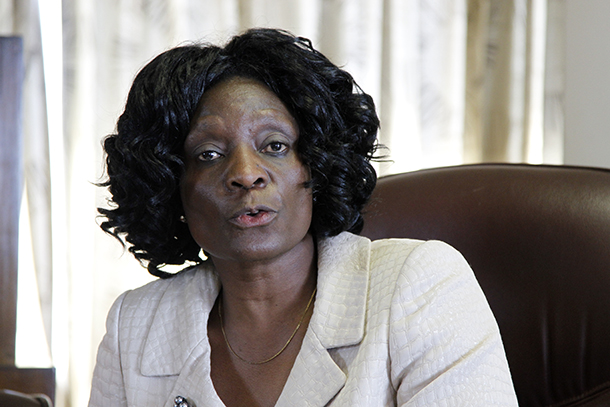 OVER 20 judges of the Supreme, High and Labour courts are stranded at Victoria Falls Airport over the past two days after Air Zimbabwe failed to pick them up despite that they had return tickets.
by RICHARD CHIDZA
Judicial Service Commission (JSC) secretary, Justice Rita Makarau confirmed the development yesterday, saying the national carrier had "developed problems", but sources in the judiciary sector insinuated that the delay was meant to punish the judges over a recent court ruling that was unfavourable to Air Zimbabwe.
"It is not like they [Air Zimbabwe] have refused. They have developed problems and we have been kept aware of developments by Air Zimbabwe. We are looking at about 20 judges, who are in Victoria Falls. Everything will be resolved," she said.
Asked why the JSC had taken over the logistics and organised two buses to pick up the stranded judicial officers, Justice Makarau seemed taken aback.
"We have not finalised that, but we will make every effort to resolve the issues," she said.
Air Zimbabwe spokesperson Shingai Dhliwayo denied reports that they had "abandoned" the judges.
She said: "We cannot abandon our customers. We are doing everything to resolve the matter. We have cancelled Flight UM322/323 due to a technical fault on our B737 aircraft which was operating the Harare-Victoria Falls service. Our passengers have been accommodated at a hotel in Victoria Falls and an alternative aircraft will be ferrying passengers tomorrow (today) from 9:30am local time. Our teams are working flat out to ensure the situation returns to normalcy. We regret any inconveniences caused by this cancellation and would like to reassure the travelling public of our commitment to safe and reliable air travel," she said.
But a source insisted the airliner had abandoned the judges as punishment for making an unfavourable judgment in a matter between Air Zimbabwe and the Civil Aviation Authority.
"AirZim is refusing to pick them up and the understanding is that they are angry over some judgment made by the courts in a dispute between them and the Civil Aviation Authority of Zimbabwe," NewsDay heard.
It could, however, not be ascertained what the nature of the dispute was, but a senior member of the judiciary who spoke on condition of anonymity said JSC had since taken over the issue and was yesterday trying to hire a luxury coach to rescue the judges.
"The JSC is paying for everything now since Sunday. It is, as we speak, making frantic efforts to get a coach to pick up the judges," the source said, adding the judges would be driven to Bulawayo on hired buses and then picked up by 11 cars deployed from Harare.
Like most paratstals, Air Zimbabwe has been struggling and reports indicate that the airline only has three planes flying, with a $300 million debt overhang.
Last week, President Robert Mugabe signed a law ring-fencing Air Zimbabwe from having its property attached over outstanding debts.
State media reported that Mugabe recently signed amendments to the Air Zimbabwe Corporation Repeal Act, providing the airline with breathing space to find new money to fund its operations.
Government has reportedly been scouring the globe for strategic partners for Air Zimbabwe, with little success.