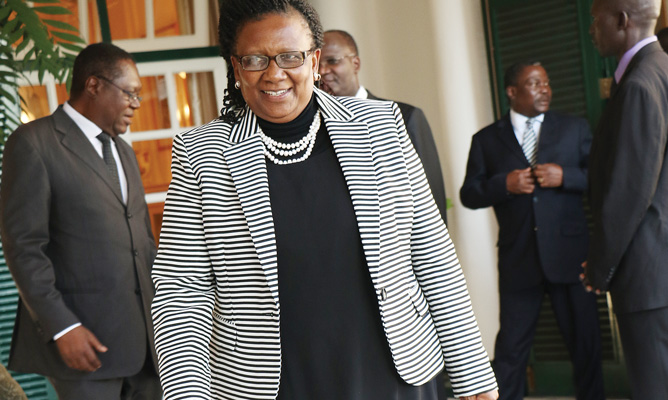 A SERIOUS fallout between Cabinet ministers has erupted over government's failure to pay civil servants on time, it has emerged.
BY RICHARD CHIDZA/EVERSON MUSHAVA
Yesterday, Public Service minister Priscah Mupfumira reportedly "washed her hands" over the issue and shifted the responsibility of announcing new pay dates to Finance minister Patrick Chinamasa.
Chinamasa has also been put under pressure to raise the money to pay civil servants as the Zanu PF government fears continued shifts in pay dates would blemish President Robert Mugabe's image.
It also emerged that warring Zanu PF factions were taking civil servants salaries as the new war zone to score cheap political points.
NewsDay understands that Mupfumira and Chinamasa faced off last week with the former saying the latter had to announce new pay dates for government workers as the cash-strapped Mugabe administration continued to dither on its promises.
According to the new dates Chinamasa later announced, teachers would be paid today, while the rest of the civil service would be paid on January 5 next year.
"Traditionally, such an announcement should have been made by Public Service minister Mupfumira," a top government official who refused to be named told NewsDay . "But Chinamasa was forced to do so because Mupfumira refused."
But Mupfumira yesterday downplayed her tiff with Chinamasa, saying it was only prudent for the Finance minister, who is responsible for the government purse, to make the announcement.
"We still work together (herself and Chinamasa), there is no misunderstanding. We simply agreed that the Finance ministry should make the announcement because they are responsible for sourcing the money. They know when they will pay the workers," she said. "If I tell the workers when they will be paid and the government misses the dates, people will say I am not honest."
Although Chinamasa was not picking calls since Sunday, well-placed sources in Zanu PF said the civil servants' salaries had turned political with factions competing to outsmart each other. Mupfumira allegedly belongs to G40, a grouping of Zanu PF Young Turks which allegedly has First Lady Grace Mugabe, Higher Education minister Jonathan Moyo, Local Government minister Saviour Kasukuwere and Indigenisation minister Patrick Zhuwao in its ranks, while Chinamasa was reportedly in Vice-President Emmerson Mnangagwa's camp.
Mupfumira, Moyo and Zhuwao were alleged to be desperate to expose Chinamasa.
Moyo yesterday took to micro-blogging site, Twitter, castigating the government for failing to pay civil servants before Christmas in a statement that appeared to be targeted at Chinamasa.
"Let's be honest without prejudice, fear or favour, there's no acceptable excuse or reason for not paying civil servants' salaries before Xmas!" Moyo wrote.
Chinamasa was also a subject of attacks by Zhuwao after differences on proposed changes to the indigenisation programme. Zhuwao accused Chinamasa of "treachery" by proposing to water down the empowerment laws when Mugabe was away on annual leave in the Far East.
Zhuwao was immediately backed by Moyo, who said the Finance minister was biting the hand that fed him.
"The whole thing rather than uniting the government for a cause to deal with this mess has been twisted into a succession platform. Some want to score cheap points against perceived factional opponents at a time when they should be helping find solutions," a top Zanu PF official said yesterday.
The sources added that Chinamasa briefed Cabinet that the government coffers were dry, but some of his colleagues were putting him under pressure to get the money or resign.
"Indeed, Cabinet was briefed, but not to the extent of paying 2015 salaries in 2016. We are all appointed to deliver, no excuses. If Chinamasa cannot discharge the mandate he should step aside before he exposes all of us and ultimately the President," a Cabinet minister said on condition he was not identified.
"Chinamasa was appointed to deliver. He is supposed to be creative."
Following the civil service payment delays, the Zimbabwe Hospital Doctors' Association (ZHDA) said its members would down tools if they were not paid their salaries and bonuses by December 31.
"Our members countrywide will not be able to attend to their duties from January 1, 2016 should this (payment of salaries and bonuses by December 31) be violated," ZHDA said in a statement.
Government has said health practitioners would be paid on January 5.
Apex Council also blasted the government for not communicating with the civil service umbrella body and warned that the government's move to renege on its promises would create a social time-bomb.
Apex Council president Richard Gundane said the government had not communicated with them for the past three months.
Mupfumira, however, said: "There is nothing to tell them (Apex Council), the government does not have the money."