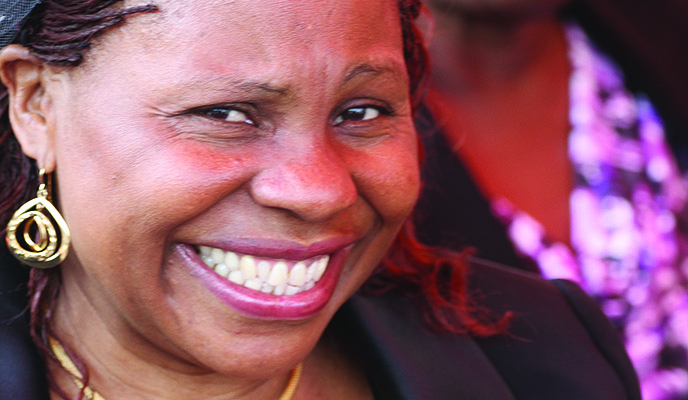 ZANU PF's factional wars in Manicaland province escalated yesterday in Mutare at a provincial coordinating meeting after rival factions almost exchanged blows over the province's women league fight for leadership.
BY KENNETH NYANGAN1
The rival factions interjected each other during the meeting and journalists were momentarily barred from covering the event, before they sneaked into the heated meeting.
Despite not being on the agenda, factional wars in the province's women's league dominated the meeting.
Manicaland women's chairlady, Happyson Nyakuedzwa sat in the front row with Macro-Economic Planning deputy minister Monica Mutsvangwa, Environment minister Oppah Muchinguri-Kashiri, acting provincial chairman, Samuel Undenge and Finance minister Patrick Chinamasa, among other senior party officials in the province Nyakuedzwa recently had a vote of no-confidence passed against, her before it was reversed, as her opponents were accused of forging signatures to pass the vote.
Her opponents are said to have accused Nyakuedzwa of provoking First Lady Grace Mugabe during her rally in Chimanimani recently. Nokuthula Matsikenyere was briefly installed as the new chairlady, but it seemed the party was sticking with Nyakuedzwa, who is supported by Muchinguri-Kashiri and Mutsvangwa.
The meeting was full of drama from the onset as a Zanu PF youth member, Kudzayi Madhara was manhandled by Agriculture minister Joseph Made's security aide, David Sanganza, drawing the anger of Zanu PF's deputy secretary for youth affairs, Kudzai Chipanga, who blamed Mutsvangwa's wife for starting the fracas.
Within seconds, rival factions had grouped and there was a lot of shoving and pushing, as Chipanga fired a salvo at Made's aide, who was also believed to be protecting Mutsvangwa's interests.
Three police officers struggled to keep the peace.
Madhara is said to have protested against Mutsvangwa for reportedly saying Zanu PF political commissar Saviour Kasukuwere was a "nobody" in the party, before blaming some ministers' security aides of taking the law into their hands.
Chipanga turned his anger to Mutsvangwa, claiming she had said Kasukuwere was a nobody in the party.
"The problem started when Mutsvangwa said Kasukuwere was a nobody in the party. Mutsvangwa dismissed a letter written by political commissar, Kasukuwere acknowledging receipt of a letter of a vote of no-confidence against Nyakuedzwa. The issue is set to be deliberated," Chipanga said.
"Kasukuwere is our national commissar. I want to tell ministers that their security aides are not party officials. They should stick to their duties. I will not tolerate a situation, where security personnel take the law into their hands. That behaviour to threaten party officials is unacceptable.
"They should stand guided by their duties. l am not happy with the issue, and he [Madhara] is going to make a police report over the matter. It was a personal attack. Why doing that when there were police officers?"
Mutsvangwa shot back, saying that she had not said anything belittling Kasukuwere, adding it was just an agenda set against her.
"I am not aware of that. What undermining? I was only arguing that proper channels should be followed. I think this is the same agenda, where party members go seeking someone's signature to pass a vote of no-confidence during the night and forging someone's signature,'' she said.