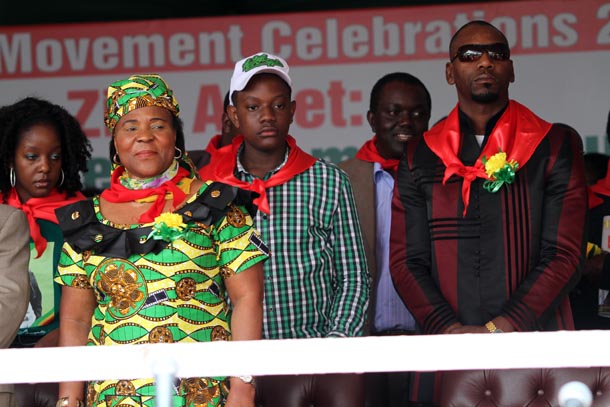 FIRST Lady Grace Mugabe has become a threat to the existence of the Zimbabwean State and must be stopped, opposition People's Democratic Party (PDP) leader, Tendai Biti, has said.
BY RICHARD CHIDZA
Biti told NewsDay in an interview yesterday that Zimbabweans should "rise up and object" to the creation of a "Mugabe dynasty".
He was reacting to media reports that Grace's son, from her first marriage, Russell Goreraza, had joined his mother and was now donating "goodies" to ordinary people during her "meet-the-people rallies".
"Grace is creating a dynasty and if there is anyone doubting her ambition to succeed Mugabe, then the past two weeks should have convinced them. We are now seeing Grace putting together the building blocks towards the establishment of a Mugabe dynasty and they need the old man to stick around as long as is possible to allow for this to happen," Biti said.
Asked what the PDP intends to do in order to stop Grace, the former Finance minister said opposition parties needed the help of Zimbabweans.
"Grace does not pose a threat just to the opposition, but to Zimbabwe as a whole. Zimbabweans must rise up and stop this madness. They must loudly object to this nonsense. If collectively, for a second, we think we can outsource the struggle for democracy in this country to an opposition that cannot organise a bust-up in a bar, then there is no hope for Zimbabwe," the PDP leader said.
Goreraza, has made donations at his mother's rallies, donating foodstuffs in Harare, Midlands and Mashonaland East and Central . With Zanu PF literally at war internally, as the search for President Robert Mugabe's successor continues unabated, Grace has been tipped as a possible contender to the throne, but she has vehemently dismissed this.
While addressing a rally in Mberengwa district in the Midlands last week, Grace said the fact she has never acted as President in Mugabe's absence was enough evidence she is not in the running.
"Goreraza is obviously being groomed for political office and you will continue to see him around ahead of 2018. Bona Mugabe-Chikore [Mugabe's first child] is also eyeing a position in the Mashonaland West provincial youth leadership," a source told NewsDay.
MDC-T spokesperson, Obert Gutu, concurred with Biti that Grace could be setting up a family structure to rule Zimbabwe.
"They are trying extremely hard to establish a family dynasty. It appears they are keen admirers of the North Korean-style dictatorship. But then, they will never succeed.
"Zimbabweans are not fools. As soon as Robert Mugabe is out of the political scene, Grace Mugabe will become thoroughly irrelevant. She will be shunned like the Biblical leper," he said.
When she joined full-time politics last year, Grace claimed some people were planning to publicly humiliate her once Mugabe was out of the picture.