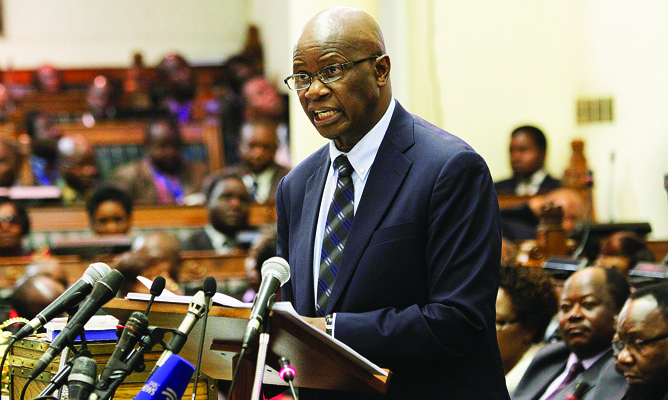 Zimbabweans from various walks of life have said they do not expect any joy from the 2016 National Budget set to be presented by Finance minister Patrick Chinamasa in Parliament today amid gloom and doom over the poor performance of the economy.
BY MOSES MATENGA
NewsDay yesterday spoke to civil servants, vendors and students, among others, who said there was nothing much to expect from Chinamasa's budget, but gave out their expectations anyway.
Tichaona Maonera, a vendor and member of the Zimbabwe Informal Sector Organisation, said Chinamasa should ensure that the informal sector was accommodated in the economy.
Maonera said instead of harassing vendors, Chinamasa should, on behalf of government, give direction on how the informal sector should be incorporated into the national economy.
"Industries are closed and as it stands, the informal sector has the majority of people who need to be incorporated. Instead of declaring war on us, they should work with us and even provide funds for the rise of the informal sector," Maonera said.
Tafadzwa Goliath of the Passengers' Association of Zimbabwe said government should ensure that public transport fares are gazetted so that commuters are not shortchanged. "We are expecting government to look at the public transport system. We need busses and something should be said on duty. They should make a pronouncement that motivates kombi operators to venture into bus operations," Goliath said.
"The Ministry of Health should be allocated an emergency fund so that victims of accidents get quicker medical assistance. Chinamasa should also ensure a decrease in health care charges since many people cannot afford them."
Obey Sithole, a Midlands State University student leader, said Chinamasa should address the plight of students in tertiary institutions.
"Education is a human right and we should not struggle to acquire it. We need all necessary resources," he said.
One civil servant said: "We need to hear the government's position on bonuses and the future of the civil servants' salaries in the wake of the audit and restructuring."
The 2016 National Budget presentation comes at a time government is faced with serious challenges and was failing to implement a number of its set goals, including ZimAsset and the 10-Point Plan.