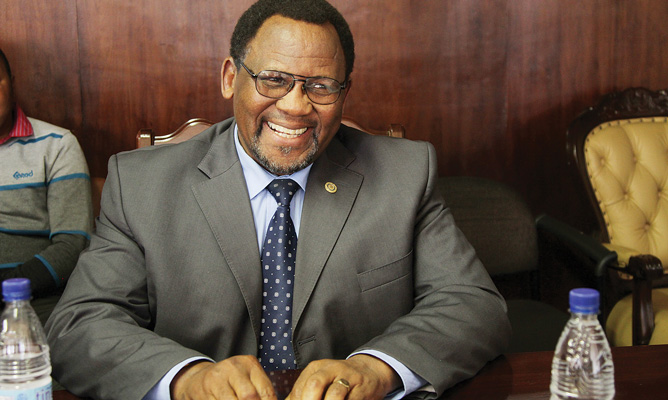 There is confusion within the National Railways of Zimbabwe (NRZ) over the position of board chairman Alvord Mabhena after Transport minister Jorum Gumbo yesterday claimed he has not dismissed him, contrary to reports.
by XOLISANI NCUBE
While Mabhena last week on Friday confirmed he had been relieved of his duties as NRZ board chairman by the new minister, Gumbo said as far as he was aware, no board of any parastatal under his ministry had been restructured.
"All my boards are intact. I have not made any decision to that effect (dismissing). I have my bosses whom I report to and until I brief them and get a go-ahead, then I can't be talking about that," Gumbo said.
Mabhena was appointed by former Transport minister Obert Mpofu last year to turn around the fortunes of the ailing parastatal and was tasked to appoint a new general manager to replace the late Mike Karakadzai, who died in 2013.
But barely 17 months into office, Mabhena was reportedly kicked out by the new minister amid allegations he had refused to re-advertise the post of general manager, saying his board had already shortlisted three candidates to be appointed by the minister.
Gumbo yesterday said he had not tampered with any board and those claiming that he had fired Mabhena were spreading falsehoods.
Mabhena's term was due to expire in 2017.
A letter reportedly written by Gumbo to Mabhena indicated that: "As you may be aware, the ministry has been re-aligning its strategic vision with that of parastatals and State institutions. To that end, it has become necessary that I terminate your term of office as chairman of NRZ with immediate effect."
Mabena was quoted saying he was surprised and disappointed by the dismissal, as he was working with a passion to revive NRZ, once the biggest employer in Bulawayo.
NRZ has had no substantive general manager for more than two years.
Gumbo allegedly ordered the NRZ to re-advertise the post barely a month after coming into office when the board had already shortlisted candidates.
Word was also rife that the new minister had also sent home the Air Zimbabwe board led by Abdulman Harid.
Gumbo again said if any decision on the boards were to be made, he was going to make an appropriate announcement.