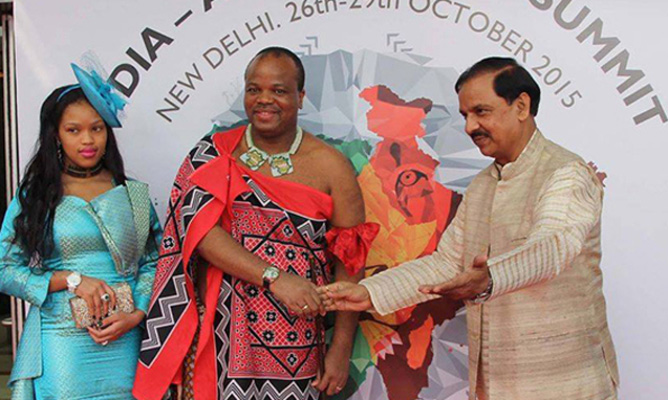 IT would probably have been buried in the billions of online news pages that are published online every day, but by taking up the cudgels to counter claims that Swaziland's leader took 15 wives, 30 children and over 100 servants with him to India, the country's monarchy-friendly leading publication may be keeping the story alive.
Mail and Guardian Africa
Mswati was one of tens of African leaders who attended last week's India-Africa Forum summit as New Delhi struggles to carve out a high profile in Africa. African delegates were treated to lavish spectacles and even richer gifts, before the two sides shook hands on a $10.6 billion deal for cheap loans and grants.
It was essentially an all-expenses paid tourism trip—India's mix of soft-power and people-to-people connections approach has struggled for traction in Africa, eclipsed by rival China, even as the two Asian countries deny they are anything other than partners for the continent.
The four-day bonanza yielded notable moments, including pictures showing African leaders clad in Indian garb—bar Robert Mugabe, a strident critic of the West but who chose to remain in a suit. Early explanations were that the Indians requested measurements from all African countries, but Zimbabwe did not respond.
But in Delhi, Zee Media, which brands itself as India's largest news network, run breathless news stories on Mswati's lifestyle (including the obligatory reference to the Reed Dance). According to the reports, picked up by other Indian outlets, his entourage to India included 15 Emakhosikati (wives), 30 children and more than 100 servants, in addition to a posse of members of government.
At least 200 hotel rooms in a five-star, $230-a night, New Delhi establishment were booked a week in advance, outlets reported.
Defending the king The Swazi Observer, a royal house mouthpiece that lays claim to nearly half the country's print market readership, did not take the reports lying down, terming them "blatant lies" and "totally fabricated".
"There is absolutely nothing like that," the paper reported Foreign Minister Mgwagwa Gamedze as saying. "The King is accompanied by one Inkhosikati – LaFogiyane – as it has always been the norm. Whenever the King travels, he is accompanied by only one Inkhosikati and this is known by every Swazi."
The minister also took umbrage at the children count.
"Where did they get this figure? Does the King even have 30 children in the first place? Most of the King's children are back at home. There are only two or three of the King's children who are here as part of the delegation, one therefore wonders what the intentions of such a report are," the minister said, and called for corrections.
The Swazi Media Commentary, a recognised blog run by former University of Swaziland journalism lecturer Richard Rooney and which documents human rights issues in the country, also came in for criticism.
The blog "is known for carrying negative reports about the royal family and government" and published the India reports "as though they were fact", the Observer said.
"The facts about the trip are that whilst in India, His Majesty and his delegation met with several financiers and potential investors who have shown great enthusiasm in coming to set up in Swaziland," the paper added, before reeling off a list of India-backed deals that were discussed.
Upgrade to royal wings
The investors may come in handy—the kingdom is reported to be facing a severe financing crisis that has seen some pension payments stopped, even as the government approved the leasing of a private jet—an upgrade on the current one which has in the recent past suffered the indignity of being impounded over debt— for Mswati.
According to our sister publication Mail & Guardian, industry sources estimate the annual cost of leasing an A-340 [jet] – over and above running costs and fixed costs such as insurance – at about $9-million.
The country's GDP is $3.8 billion—or about 20 times the king's personal fortune, the upper limit of which is estimated at $200 million—in addition to having absolute control of the treasury.
"He lives lavishly, using his kingdom's treasury to fund his expensive tastes in German automobiles, first-class leisure trips around the world and women. But his gross mismanagement of his country's finances is now having dire economic consequences. Swaziland is going through a severe fiscal crisis," M&G said in a weekend investigative report.