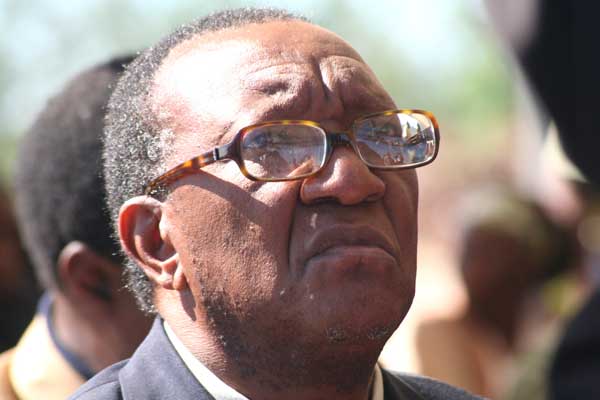 AGRICULTURE minister Joseph Made has sensationally claimed white former commercial farmers were behind most of the veld fires recorded in the country as they were bitter over the seizure of their farmland.
BY CLAYTON MASEKESA
Made told stakeholders at a capacity-building workshop for members of the Parliamentary Portfolio Committee on Lands, Agriculture, Mechanisation and Irrigation Development held in Mutare yesterday, that most of the veld fires were acts of sabotage by white former commercial farmers.
"We should look at the nature of these fires. The whole country is burning and this is now affecting even the livestock and crops. As government, we should now pay extreme attention to this," he said.
"Is it a reason that we took away land from them? Let's just look at this issue closely. Let's ask ourselves questions. Are these veld fires accidental? These fires are meant to destroy agriculture and we will be viewed as total failures, a lot is happening." Made capped off this theory by urging Environment minister Oppah Muchinguri-Kashiri to be more vigilant.
Muchinguri-Kashiri recently complained that environmental crimes were being treated lightly necessitating the introduction of mandatory sentences for offenders.
"Our records show that environmental crimes have been trivialised and very few custodial sentences have been given despite the fact that 72 deaths have been recorded to date," she said.
"The ministry has started a process towards the amendment of the relevant Forest Act (Chapter 19:05 and SI 7 of 2007) to ensure that mandatory sentences are effected."
Muchinguri-Kashiri said a committee had been set up and funds provided to monitor fire outbreaks countrywide.
"To address this scourge, the Ministry of Environment has set up a national fire committee comprising of various ministries and non-governmental organisations," she said. "The Environmental Management Agency has already deposited $200 000 into the fund."
Meanwhile, Deputy Speaker of the National Assembly Marble Chinomona has accused parastals under the Agriculture, Mechanisation and Irrigation Development ministry of stifling the growth of the agricultural sector.
"Another issue critical to the growth of the agricultural sector is that of promoting joint ventures and public-private sector partnerships through State-owned companies to promote the growth of the agricultural sector," Chinomona said.
"Several parastals that fall under the Agriculture, Mechanisation and Irrigation Development ministry have been underperforming and these include GMB, the Cold Storage Company and the Cotton Company of Zimbabwe."