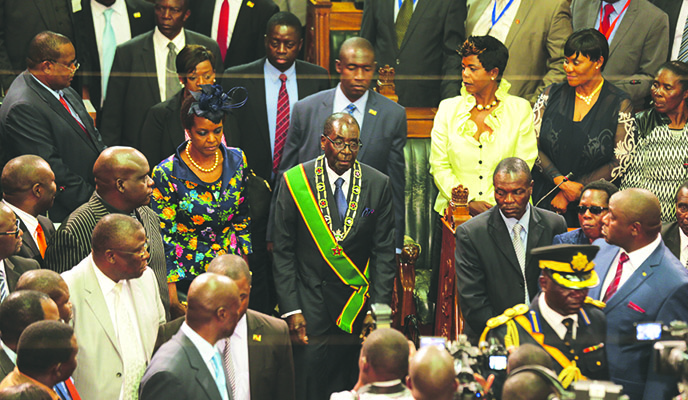 PRESIDENT Robert Mugabe's loyalists were on Tuesday battling to do damage control after the veteran leader strangely read the wrong speech at the official opening of Parliament.
by VENERANDA LANGA
Instead of reading a speech laying out Parliament's legislative agenda for the next 12 months, Mugabe regurgitated the State of the Nation Address he gave in the august House about three weeks ago.
The only marked difference between the State of the Nation Address and the opening of Parliament speech was that Tuesday's was 25 minutes long, while the former was 27 minutes, probably because he left out his ambitious, but vague 10-point plan.
Presidential spokesperson George Charamba was seen rushing to Vice-President Emmerson Mnangagwa apparently to alert him of the embarrassing blunder, but no effort was made to stop Mugabe from carrying on with his speech, possibly to avoid further embarrassing him in public.
Later in the afternoon, Charamba was quoted in the State media acknowledging the gaffe.
"There was a mix-up of the President's speech today resulting in His Excellency, President Mugabe, delivering the wrong speech," Charamba said.
"The mix-up happened in his secretarial office, therefore, the delivery in Parliament should be set aside. The error is sincerely regretted and corrective measures are being considered."
Luckily for Mugabe, but still weirdly, the nation did not have a chance to watch his gaffe live, as the Zimbabwe Broadcasting Corporation suspended live television and radio broadcasting of his speech after opposition MPs threatened to disrupt the event.
On August 25, opposition MPs booed and heckled Mugabe over the deteriorating economy during his State of the Nation Address.
Yesterday, the MPs did not heckle Mugabe after Speaker of the National Assembly Jacob Mudenda warned legislators that they would be charged with contempt of Parliament.
While Mugabe was busy reading the wrong speech, copies of the correct speech were already being distributed to different departments in Parliament, including Papers Office and the public relations department.
However, the speeches were immediately withdrawn after the blunder was noticed.
As if to add to the circus, Zanu PF MPs also seemed oblivious of the mistake, as soon after Mugabe left Parliament, followed by his wife First Lady Grace, the securocrats and judges, the ruling party's legislator for Buhera North, William Mutomba, surprisingly moved a motion to debate on the Presidential address.
This is debate that normally follows after Mugabe has set out the legislative agenda during the official opening of Parliament speech.
It is yet to be seen how MPs will debate on a speech that was as good as not delivered.
Ever the one to wear a brave face, Tsholotsho North legislator Jonathan Moyo took to Twitter in a tenuous defence of his ageing boss.
"Speech was wrong for the day, but otherwise right," he wrote.
"Facts in earlier speech remain relevant, important and cheerable (sic).
"They discovered the mix-up, but it was too late, hence he (Mugabe) tweaked the speech."
MDC-T deputy chief whip Dorcas Sibanda said: "Zanu PF has failed and their bag of lies is now empty. They should step down and pave way for those who can govern."
Kuwadzana East legislator Nelson Chamisa (MDC-T) said technically, it meant Mugabe had not officially opened Parliament because there was no new legislative agenda outlined, as well as a declaration to officially open Parliament.
"However, Mugabe can just get away with it because constitutionally, he is under no obligation to officially open new sessions of Parliament," he explained.
"It is just practice that he officially declares a new session open.
"But the mishap is just a symptom that things are not right in the country and that Mugabe is now of age."
Meanwhile, Clerk of Parliament Kennedy Chokuda has summoned all MPs to Parliament building today for special business.