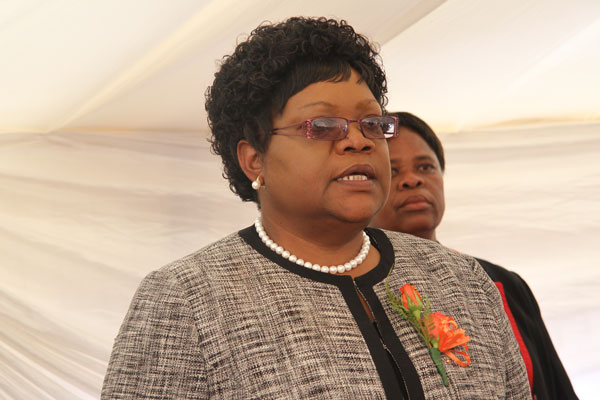 Former Vice-President Joice Mujuru on Monday all but announced her re-entry into national politics, which she will find a markedly different terrain from when she left it.
It is beyond doubt that when she finally, and expectedly, joins the political fray, Mujuru will have a groundswell of sympathisers who feel she was hard-done by Zanu PF and this will provide the basis of her support.
While there is euphoria at Mujuru's policy statement and re-entry into politics, it is important to take a step back and look at the role she played in the misrule and misgovernance of the country in the 35 years that she was in government.
Mujuru has apologised for her role in the misgovernance of the country, but the question remains if she would have done so had she not been fired from the government and the Zanu PF party.
We do not think her apology means she has a blank slate and all is forgiven, but it means Zimbabweans should scrutinise her past and compare it with what she promises for the future.
Nevertheless, we welcome Mujuru back into public life and advise her that the game has changed and she should be prepared for a strong backlash from her former colleagues in Zanu PF, who will view this as a betrayal and vindication for the manner they expelled her from the ruling party.
Zanu PF has been known to be brutal when dealing with people they deem to be deserters and Mujuru now fits that description and she should expect the worst from her erstwhile colleagues.
As a Zanu PF politician once said, being a member of the party is like riding on the back of a hyena; if you disembark it will turn around and bite you. The former Vice-President must be prepared for the hyena's fury, but we commend her for her bravery, as we doubt this was an easy decision.
More importantly, however, is that Mujuru's re-entry into politics strengthens the opposition and, by extension, the country's democratic forces.
We have noted with dismay as the opposition has been consumed by infighting and splits, while affording Zanu PF carte blanche to run the country. A strong opposition is important for the country as it keeps the ruling party in check and on its toes.
The grim reality was that Zimbabwe was slowly gravitating towards a one-party State and Mujuru's re-entry into politics, not that it is a panacea for the country's problems, serves as an indicator that Zanu PF does not have a blank cheque and it should not take the 2018 elections for granted.
Our advice to Mujuru, and any other opposition party, is that we will hold you to a higher standard and treat your planned policies with doses of scepticism, as what the majority want is something different from Zanu PF.
We have had Zanu PF for 35 years, Zimbabweans know what they are about, and from the opposition the people want something different to take the country forward.