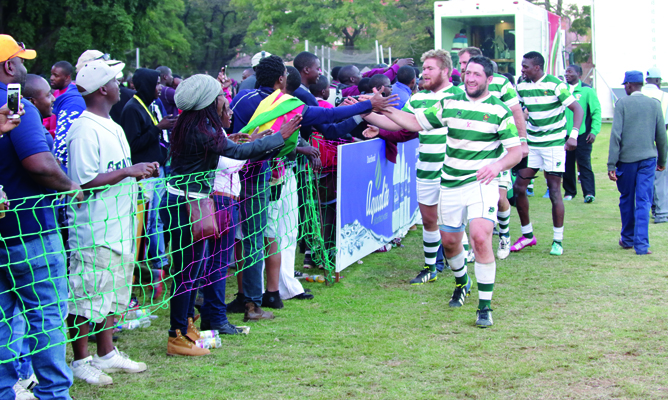 Zimbabwe rugby team coach Cyprian Mandenge yesterday lamented his team's poor preparations ahead of their decisive Africa Cup encounter against Rugby World Cup-bound Namibia in Windhoek on Saturday.
BY DANIEL NHAKANISO
The Sables, like their opponents on Saturday, have won two matches in Group 1A so far and the winner of the match at the weekend will be crowned African champions.
However, the team's preparations have not been befitting of such an important fixture with the players not holding a training camp ahead of the match because of lack of funding.
Added to that, the team will only travel to Namibia a day before their match after the administration failed to make ticket bookings on time.
The International Rugby Board pays for transport and accommodation.
Mandenge, who has led his charges to home wins over Tunisia and Kenya, is frustrated the team will arrive in Namibia less than 24 hours before the match.
"Training has been going on well, but it's not the ideal preparations we would have wanted ahead of such an important match. We understand the situation that we are in is affecting everyone, not just the Zimbabwe Rugby Union," Mandenge told NewsDay Sport yesterday.
"Our team can't get into camp because of financial problems and that affects the training programme because we can't do everything we need to.
"We can't hold three sessions because the players are coming from their homes and it's also difficult for the players to bond when they are not staying together," he said.
"The other disappointing thing is we are leaving a day before our match. It's also not ideal. But look, I'm happy because the players have shown that they are willing to put their bodies on the line for the love of their country. They have remained fully committed even under difficult circumstances. I can't ask for more from the players," Mandenge said.
Despite their success in continental competitions, the Sables, like most national teams across sporting disciplines in the country, continue to struggle financially.
The Sables had a good chance to make it to the Rugby World Cup, but poor funding led to poor preparations and Namibia claimed the sole automatic ticket.
The Sables technical department made seven changes to the squad that faced Tunisia last month as most of the foreign-based players have not been released by their clubs.
Prop Farayi Mudariki, who started both matches against Kenya and Tunisia and is based at French side Castres Olympique Rugby Club, and hooker Nico Nyemba, who plays club rugby in England, are both unavailable.
The South Africa-based quartet of forwards Lawrence Clemson, Norman Mukondiwa, Kevin Nqindi and Njabulo Ndhlovu will also miss the tie due to club commitments, while the duo of Jacques Leitao and Shingi Mpofu miss out due to work commitments.
Zimbabwe have, however, been boosted by the availability of skipper Denford Mutamangira, while the duo of loose forward Kingsley Lang and center Rian O'Neill is also poised for a return after missing the Tunisia match.
Mandenge also recalled forwards Lucky Sithole, Tatenda Karuru, Brian Makamure and backline player Gerald Sibanda, while Old Georgians forward Kyle de Beer is in line to make his Sables debut.
The Sables have won only three of their 26 matches against Namibia since December 1990 and their latest defeat, 24-20, came during the World Cup qualifiers.
Sables squad: Denford Mutamangira (captain), Royal Mwale, Brian Makamure, Fortune Chipendu, Biselele Tshamala, Andrew Rose, Lucky Sithole, Kingsley Lang, Charles Jiji, Tichafara Makwanya, Steven Hunduza, Rian O'Neill, Cleopas Makotose, Tafadzwa Chitokwindo, Tangai Nemadire, Tatenda Karuru, Tatenda Murwira, Sanele Sibanda, Kyle de Beer, Hilton Mudariki, Lenience Tambwera, Gerald Sibanda
Coach: Cyprian Mandenge, Assistant coach: Nsikelelo Sibanda, Team Manager: Sebastain Garikai