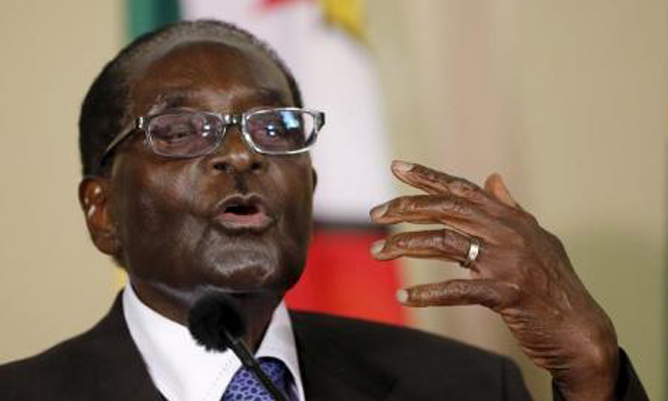 MOST Zimbabweans yesterday seemed disinterested in President Robert Mugabe's State of the Nation Address at Parliament Building, as they continued with their business outside the august House seemingly oblivious and indifferent to what was happening.
BY RICHARD CHIDZA
At 2:28pm, Mugabe's wailing motorcade appeared at the corner of Nelson Mandela Avenue and Sam Nujoma Street, and seconds later his black limousine and several support cars that included military vehicles and an ambulance, followed and parked outside Parliament Building opposite Africa Unity Square.
Mugabe's parliamentary addresses are usually characterised by fanfare and a large turnout of Zanu PF kongonya dancing supporters and singing members of the Apostolic Sects clad in their traditional white robes.
This time, a deathly silence, however, greeted Mugabe.
The rear-gyrating and drum-beating Mbare Chimurenga Choir was also nowhere to be seen.
Most people around Africa Unity Square interviewed by NewsDay said the hush that accompanied Mugabe's entrance in Parliament epitomised the dark hole that Zimbabweans found themselves in.
"I am not really interested in the speech.
"I do not see him giving any solutions to the economic problems," said one disinterested passer-by at Africa Unity Square, who declined to be identified.
After exchanging brief greetings with securocrats, among them Defence Forces chief, Constantine Chiwenga, Chief of Staff in the Zimbabwe National Army, Major-General Douglas Nyikayaramba, Police Commissioner-General Augustine Chihuri, head of prisons Paradzayi Zimondi, Central Intelligence Director-General Happyton Bonyongwe and an unidentified member of the Air Force of Zimbabwe top brass, who was probably standing in for the absent Perrance Shiri, Mugabe sauntered into Parliament to deliver his speech.
As he walked over the approximately 20-metre red carpet, which was spread for him at the entrance of Parliament Building, the nonagenarian's security surrounded him as if he was in an elaborate human enclosure, making it almost impossible for jostling journalists to take any pictures.
Then he was gone.
There was no giant television outside Parliament to broadcast Mugabe's address.
In the past, a giant screen would transmit live Mugabe's address to enable people at Africa Unity Square to follow proceedings.
Security details prowled the environs of Parliament Building, some of them armed to the teeth.
Ironically, the speech was delivered opposite Africa Unity Square, where abducted activist Itai Dzamara used to hold his one-man demonstrations, calling for the veteran leader to step down.
And true to form, Mugabe never mentioned Dzamara in his speech.