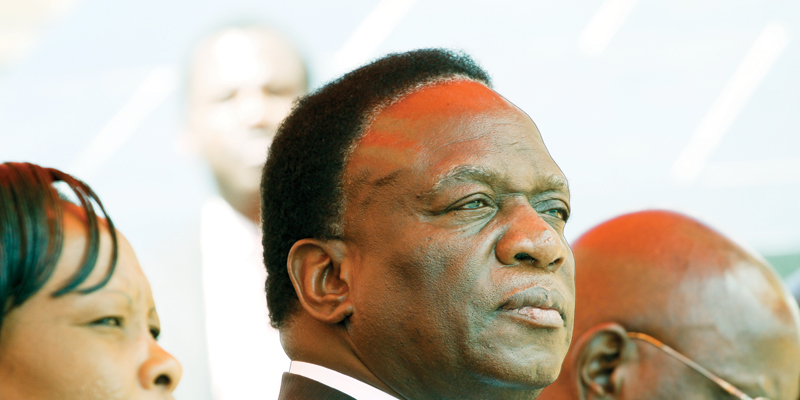 ACTING President Emerson Mnangagwa was yesterday forced to address a paltry crowd of about 200 people including participants and officials at the opening ceremony for the 13th edition of Zimbabwe National Youth Games at Sakubva Stadium in Mutare.
by KENNETH NYANGANI
This was despite the fact that Zanu PF youths had earlier on shut down Sakubva flea market and ordered all vendors to attend the event.
Although Zanu PF Manicaland acting provincial chairman Samuel Undenge could not be reached for comment, observers attributed the poor turnout to factional fights in the province.
The divisions were given graphic expression when bitter rivals Manicaland Provincial Affairs minister Mandi Chimene and Water minister Oppah Muchinguri-Kashiri avoided eye contact despite being seated side by side for over two hours at the high table.
The two are reportedly fighting for control of Zanu PF provincial structures.
Addressing delegates, Mnangagwa hailed sport as providing "positive alternatives to idleness" and taking "children and the youth away from mischief and violence".
He said government's creation of a stand-alone Ministry of Sport, Arts and Culture was a demonstration of its commitment to sport.
Mnangagwa, however, cautioned that "government alone cannot take us to the 'promised land' as there is need for all stakeholders to work closely with the new ministry so as to ensure that we reap the benefits that abound in sport".
He implored the Sport ministry to "roll out tangible programmes and initiatives to turn around the sport sector into a vibrant industry which will create employment and viable enterprises that can contribute towards improved livelihoods, economic development and empowerment".
He also warned participants against taking performance-enhancing drugs.
"I would like to caution young sportsmen and women against taking steroids and other performance-enhancing substances which, not only feed into the cancerous scourge of cheating, but also violate the value of fair play.
"If you have to become a champion, let it be a result of honest hard work and strict compliance with the rules and regulations of sport."
Speaking at the same event, Sports minister Andrew Langa hailed world welterweight boxing champion Charles Manyuchi whom he said was "a product of these Games and has earned himself international recognition through boxing".