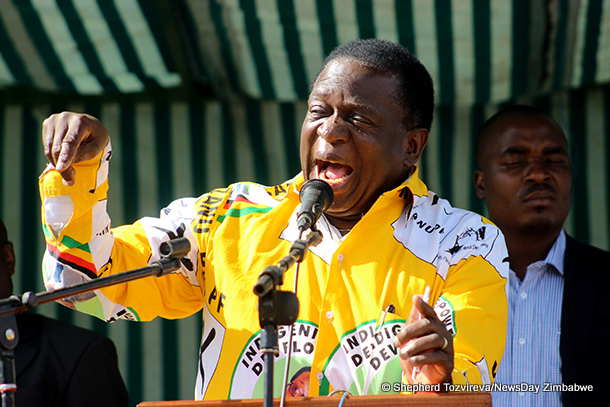 VICE-PRESIDENT Emmerson Mnangagwa has conceded that Zimbabwe has fallen far behind other countries in terms of development, saying the government needs to swallow its pride and review some controversial economic policies to attract foreign investment.
BY RICHARD CHIDZA
Speaking in an interview with CCTV, the Chinese national television broadcaster, last week during his week-long visit to the Asian country, Mnangagwa said government will have to literally "bite the bullet" for the country to catch up with its African peers.
He said the Zanu PF government was "working on a massive reform process," including social and legislative frameworks, "to bring Zimbabwe back to the table of nations".
"We must know that investment can only go where it makes a return so we must make sure we create an environment where investors are happy to put their money because there is a return," Mnangagwa said in the 30-minute interview.
"In fact, capital will go where it finds comfort, so we need to do that, create an ease of doing business environment."
Mnangagwa said Zimbabwe also needed to go through a vigorous reform process as happened in China following the death of the late communist dictator Mao Zedong in 1976 leading to its near-miraculous transformation into the world's second largest economy inside three decades.
"We have to see how we can create an investment environment which will attract the flow of capital," Mnangagwa said.
"These are the tasks we face and we have to look at even legislation and our social systems need to be reformed in order to catch up with current global trends.
"So we are looking at the reform measures that China has gone through to help us move forward.
"But of course we are very careful that it is important that we remain proud as a nation and as a people.
"We will not do anything that removes that pride because as a people we are independent and sovereign."
In what could be the most open and candid assessment of Zimbabwe's current state by a top government official in the past few years, Mnangagwa elevated to the Vice-Presidency following a vicious power struggle, said the country was nearly two decades behind other nations in most aspects.
"You cannot say there are areas of our economy which we are happy with, infrastructure we are behind by 15-16 years, agricultural development the same, manufacturing, in fact capacity utilisation in some areas of our industry it is down to 20%, so again we have to retool by acquiring new machinery, technology and machinery so that we are competitive," the VP said.
Mnangagwa also seemed less excited about the much-vaunted "mega Chinese deals" signed by President Robert Mugabe last year.
"The President signed several important and big deals, because of the size of the deals they cannot come to fruition overnight, but I am happy that several of them are making progress," he said.
"All this process has to go through tender according to our laws, so we are grateful that progress is there, but we will see as the tender process unfolds, we will be seeing full implementation of these deals," Mnangagwa said.
The State media had gone to town prematurely celebrating the signing of the deals as a panacea to Zimbabwe's plethora of problems.
But Mnangagwa seemed to hint at special treatment for Chinese companies to win the "tenders".
"Kariba South Extension is already making progress, Hwange 7 and 8 the bidding process has been done and again a Chinese company won the tender for the construction of the 600-megawatt plant," he said.
"The second constraint is that these deals lend themselves to a model of financing depending on whether they are joint ventures or built, operate and transfer."
However, Mnangagwa could also not miss the opportunity to throw in the usual "sanctions mantra" blaming the targeted measures imposed on Mugabe and his inner circle by the US and European Union over accusations of rights abuses and electoral fraud for the "constraints that the economy suffered in the past 15 years".
Zimbabwe's economy has been in a tailspin since the turn of the century with critics blaming Mugabe's "scorched earth policies" including the doling out of unbudgeted payouts to former liberation war fighters and an ill-advised involvement in the Democratic Republic of Congo civil war towards the end of the 90s.
Mugabe's administration then fell out of favour with the country's former colonial master Britain after he embarked on land reforms meant to redress colonial imbalances, but which turned into an orgy of violence and murder as well as displacements of thousands of farm workers.
The political crisis led to the collapse of the agricultural sector, manufacturing followed before the national currency also went bust with the rest of the economy as well as the country's social fabric.