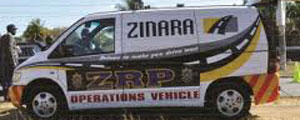 At least 20 Zinara employees accused of having links to Zanu PF have allegedly been sent packing for various reasons ranging from theft, absenteeism and other "petty offences".
BY Staff Reporter
The workers — most of whom were former Zimra employees who moved over to the country's road administrator — were sent packing recently with the board chair Albert Mugabe stating that they would appear before a disciplinary hearing anytime soon.
"Yes, I can confirm that we have around 20 people who are under investigation and assessment. There was a request to place these people on investigation, you cannot call it being dismissed, we are just evaluating their performance," Mugabe said.
But most workers including the affected emlpoyees accused management at the State-owned entity, which has become government's cash cow, of targeting only those who were hired by Zimra accusing them of being Zanu PF activists. They alleged that after being dismissed, they were being replaced by people from a particular Pentecostal church, (name supplied), a development they said was based on nepotism and discrimination.
"Most of the workers affected are former Zimra staffers and they are being labelled as Zanu PF activists," a source said.
Mugabe, however, said it would be "far-fetched for us to know which political party people support. Yes, most of the people at our tolling points were employed by Zimra and when we took over, we examined them as per our demands and we found that generally they are good". A toll controller related to a Zinara board member was also reportedly ill-treating staff accusing them of having links to Zanu PF. The officer reportedly joined Zinara from a fast food company.