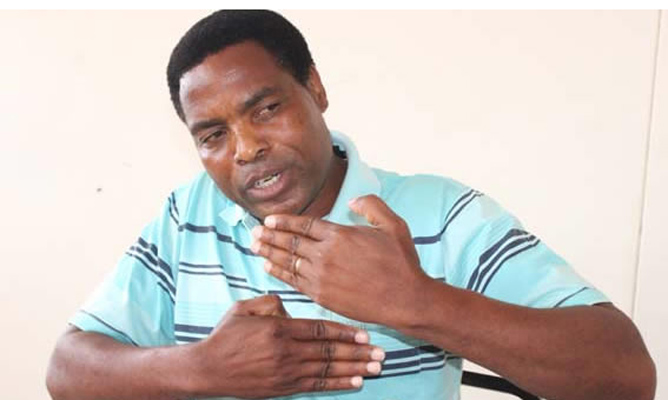 Former war veterans' leader Jabulani Sibanda's constitutional application challenging his prosecution on allegations of insulting President Robert Mugabe's authority will be heard today by a full Constitutional Court (ConCourt) bench.
BY CHARLES LAITON
Sibanda's challenge followed his arrest sometime in November last year after delivering a lengthy speech at Herbert Mine in Mutasa where he is alleged to have indicated that Mugabe and his wife Grace were planning "a bedroom coup" to topple then Vice-President Joice Mujuru.
Sibanda is alleged to have said he was not prepared for such an arrangement because power is not "sexually transmitted".
Appearing at the Harare Magistrates' Court early this year, Sibanda's lawyer Sobusa Gula-Ndebele urged the charge was ultra vires Sibanda's constitutional right to freedom of expression.
Gula-Ndebele said Sibanda's charge had the effect of infringing on his rights and freedom, which rights have been deemed fundamental by the Constitution.
However, the Prosecutor-General's Office said Harare provincial magistrate Vakayi Chikwekwe ought not to have referred the matter to the ConCourt arguing the application was frivolous and vexatious.
"No factual basis was established for legal arguments advanced by applicant's counsel. Counsel did not call applicant to give viva voce (oral) evidence, as he was required to do if he were to comply with the law and place evidence on record to enable the court aquo (lower court) and this honourable court to conduct an inquiry into the constitutionality or otherwise of the criminal prosecution of applicant," prosecutor Edmore Nyazamba said in his heads of argument.
"Respondent submits that the applicant has not demonstrated in the court aquo that the referral of the matter to the honourable court is not frivolous and vexatious. This is so because there is no evidence led in the course of the application in the court aquo to support the applicant's allegation. For the honourable court to be able to conduct an inquiry into the alleged fundamental rights violations, it does so on the basis of evidence."
Nyazamba said Sibanda was not properly before the court and as such his application ought to be dismissed.