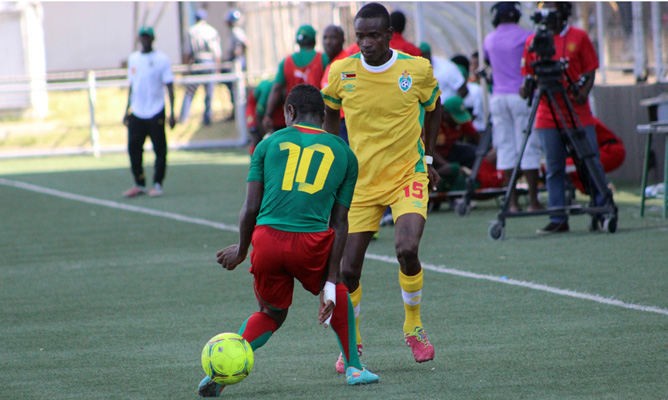 WARRIORS coach Kalisto Pasuwa finally released his squad yesterday for Saturday's Africa Cup of Nations Group L qualifier against Malawi following the intervention of Sport, Arts and Culture minister Andrew Langa.
BY WELLINGTON TONI
Langa met with Zifa and Sports and Recreation Commission (SRC) officials yesterday morning to ascertain the level of the crisis that has engulfed the Warriors three days before the crucial opener set for Kamuzu Stadium in Blantyre.
And Langa, like the rest of Zimbabwean football fans, was left hugely unimpressed by the developments after an impasse between Pasuwa and Zifa.
"I had to speak to Pasuwa, but I am yet to speak to his manager [Gibson Mahachi]. This has never happened before where I speak directly to the coach, but I had to speak to him and ask him to carry on with the job because he has not been paid anything since he assumed his duties and that is very sad," he said.
"Pasuwa is a very patient man and people must not take advantage of that. Remember he has taken us to the All-Africa Games finals and we are playing South Africa next month in the Under-23 Championships. Surely such a coach must be treated with respect and deserves more.
"I said to Pasuwa, please let us go and raise the Zimbabwean flag high because we cannot be beaten by Malawi. Even if you look at the group that we are in, we have a better chance of making the finals and it's not as tough as it seems," Langa added.
"I indicated to Zifa that they should now work towards ensuring that the team is flown to Malawi without any problems and that the welfare of the players is taken care of."
The minister added: "I told Zifa not to play with emotions of the people. I was disappointed to be told that the team is not yet in camp, not even assembled and that issues to do with the national coach have not been attended to. The coach has not been paid anything since he assumed the post and that is why he is demanding a written-down contract."
The SRC's crime is simple: They harvest 6% from eight Premier Soccer League matches every weekend, but have not even ploughed a dime into football and or any other sport as also seen in the national hockey team's failure to travel to Egypt for Olympic qualifiers due to lack of financial resources.
However, with government unable to assist financially, Zifa has to continually turn its begging bowl to its president Cuthbert Dube, who had his property and cars attached over a Warriors debt last month and seems to have ended his financial support.
The councillors, who have been baying for his blood and temporarily removed him last month before Fifa intervened and are planning another meeting on June 20, seem to have no energy to source finding for the Warriors commitments.
But sources last night said Dube would take care of the welfare of the coach. "He paid up something and made a strong undertaking to take care of Pasuwa's welfare," a source said.
NewsDay Sport is also made to understand that overtures were being made to Prophetic Healing and Deliverance (PHD) Ministries founder Walter Magaya last night for a bailout.
Magaya has in the past bailed out the Young Warriors and the Mighty Warriors while he also paid $54 000 for the Warriors' participation in the Cosafa Cup in South Africa in May.
After the meeting yesterday, Pasuwa finally released the 19-man squad that will have four training sessions between today and tomorrow before flying out on the eve of the match, although Zifa were still working on the travelling arrangements yesterday.
Explosive striker Nyasha Mushekwi, with 10 goals in 11 starts for Djurgardens in Sweden, KV Oostende star Knowledge Musona, Mathew Rusike and Willard Katsande of Kaizer Chiefs and the Mamelodi Sundowns trio of Kuda Mahachi, Cuthbert Malajila and Khama Billiat are part of the squad.
Vitesse Arnhem of Holland fringe player Marvellous Nakamba, Chippa United defender Eric Chipeta and Pretoria University defender Patson Jaure complete the list of the 10 foreign-based players.
Pasuwa did not forget his local Under-23 heroes, calling up the pair of goalkeepers Donovan Bernard and Tatenda Mukuruva, Blessing Moyo, Ronald Pfumbidzai, Wisdom Mutasa, Gerald Takwara and Teenage Hadebe. Danny Phiri and Justin Jangano complete the list.
Phiri, Jangano, Donovan and Jaure are the only players who were in the Zimbabwe team which played at this year's Cosafa Cup in South Africa last month while Musona, Katsande and Malajila return to the Warriors colours after the botched 2015 campaign against Tanzania 12 months ago.
Zifa spokesperson Xolisani Gwesela told the association's official website www.zifa.org.zw yesterday that training would commence today.
"Players are expected to start trooping into camp today [yesterday] and training begins tomorrow [today]. We will announce their travel arrangements in due course. We would have wanted a longer period for preparations, but as we have always said, our plans are hampered by lack of financial resources hence Zifa is in dire need of government and corporate support," he said.
"Glory can only come when national teams are fully funded, but regardless of the challenges, we are confident of scooping a positive result against Malawi."
Pasuwa is not new to such problems: After Premier Soccer League teams withdrew their Under- 23 players for the All-Africa Games qualifiers against Cameroon home and away, he still triumphed.
For the Under-23 Championships two weeks back, they arrived in Swaziland on the eve of the match, but, again, he triumphed. Will he overcome the same hurdles in Blantyre this time?
Squad: Bernard Donovan, Tatenda Mukuruva, Blessing Moyo, Patson Jaure, Eric Chipeta, Teenage Hadebe, Justin Jangano, Ronald Pfumbidzai, Danny Phiri, Willard Katsande, Gerald Takwara, Wisdom Mutasa, Khama Billiat, Kudakwashe Mahachi, Marvelous Nakamba, Knowledge Musona, Nyasha Mushekwi, Mathew Rusike, Cuthbert Malajila.
Probable starting X1: Mukuruva, Moyo, Pfumbidzai, Chipeta, Jaure, Katsande, Phiri, Billiat, Mahachi, Musona, Mushekwi.