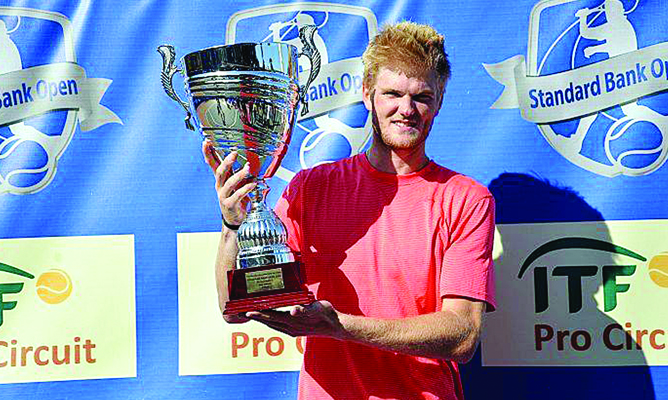 ZIMBABWE's hopes of a local winner at the Old Mutual ITF Futures Tournament went up in smoke after Davis Cup player Benjamin Lock lost to American player Evan King in the semi-finals of the $10 000 event at Harare Sports Club.
BY DANIEL NHAKANISO
King ended the hopes of Zimbabwean tennis fans with a 7-5, 6-3 victory over a fighting Lock in a thrilling encounter which lasted just over two hours.
The 23-year-old Chicago-based player, who is still searching for his maiden ITF Futures singles title, will play his compatriot Tyler Hochwalt, who rallied to beat another American player 4-6, 6-3, 7-6 in other fiercely contested semifinal played at the same venue.
Lock, who was hoping to add this week's Old Mutual Futures title to the Mozambique Futures he won two weeks ago, conceded that King was the better player on the day.
"Evan played really well today. He served really well on the big points and took his chances. I played well in the first set and had a set point chance, but from there, I wasn't playing my best. I tried to fight as best as I could to get back into the match, but came out second best in the end," Lock said.
King said: "I'm extremely happy with the result. Benji (Lock) is an extremely amazing player. He's a great college player in the United States, plays Davis Cup for Zim, so I have a lot of respect for him and I knew I had to play really well."
After only two local players, namely Benjamin and his younger brother Courtney, made it past the opening round this week, Zimbabwean tennis players will be hoping for better fortunes in the second Old Mutual ITF Futures tournament which starts on Monday.
The second leg of the tournament will see US-based Zimbabwean player Mbonisi Ndimande making a return to singles action for the first time since March.
The 24-year-old player featured only in the doubles competition where he was knocked out in the first round together with Frenchman Arthur Surreaux.